I finally graduated from HD Makeup Studio and Academy's HD Beauty and Fashion Makeup Course last August 27, 2011!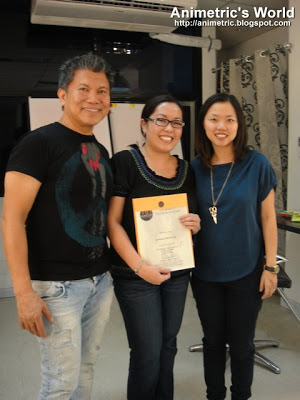 I spent over 30 back-breaking hours (literally) putting on make-up on a wide variety of models ranging from ages 14 – 50+. One of the first things I had to learn was how to shave, shape, and clean up eyebrows. You're not going home if even a single strand of hair is out of place. That is just the kind of discipline instilled in us by our instructors Sir Jeave and Stef. I thought I wasn't going to make it after the first session but I hung on and finally got my certification! Throughout the course I had to decline all events that coincided with my classes. :p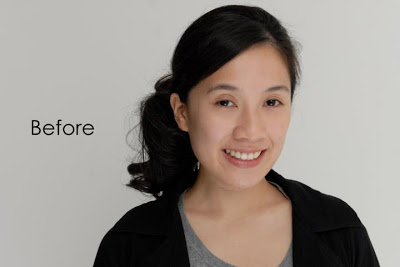 One of the things I like about HD Makeup Studio and Academy is how they provide models for each session. You can't work on the same model more than once so you don't get used to a particular set of features. For graduation day however, you are allowed to bring your own model and that is just what I did. Lucky for me my cousin Kim (pictured above) agreed to spend a whole day with me in make-up school. 😀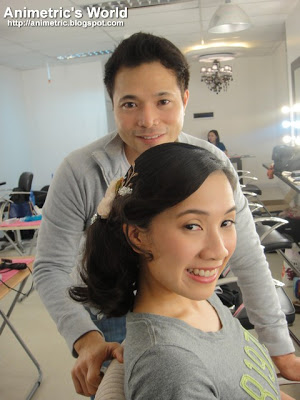 Each graduating make-up artist is paired up with a hairstyling graduate. I consider myself lucky to have had the extremely talented Manny as my partner. He's so creative he's like the McGyver of hair, able to create accessories and ornaments from things he finds around him! Anyway, we were all required to do a bridal look plus a second look of our choice. Both looks will be photographed in the studio so you can have a starting portfolio.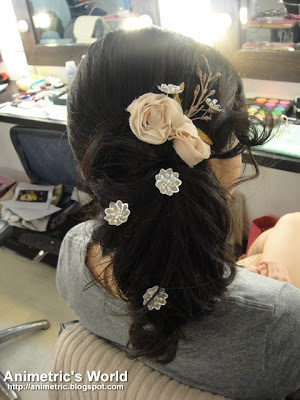 Manny is a genius. I love the hairstyles he comes up with. Hair still looks soft and touchable when he works on it, not oversprayed and helmet-like.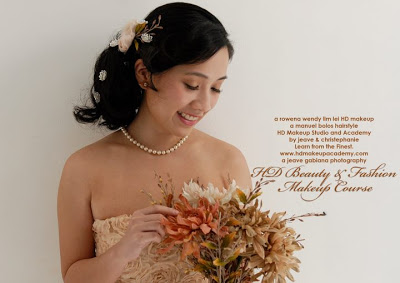 And this is the bridal look I came up with for my portfolio. A bridal look is supposed to withstand the test of time, looking natural and classic whenever you look back on your wedding day photos. That said, we use browns and pinks.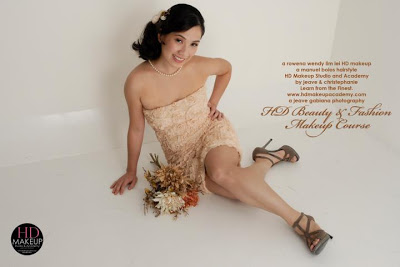 This is the full body shot. I am waiting for all the photos from school. We took a lot of shots. 🙂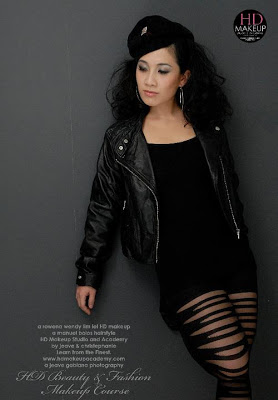 For my second look, I came up with something inspired by the movie Sucker Punch. I really loved the make-up in that movie, plus I needed something that was a far departure from the bridal look. I did not go avant garde because I wanted people to be able to relate easily.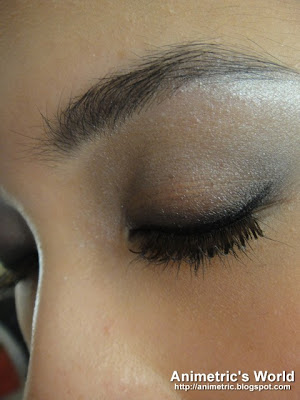 Eye make-up is key in pulling this look off. Apart from smoky and metallic eyeshadows, you will need to draw a thick and well-defined cat's eye and use false eyelashes. The Sucker Punch girls were all wearing layers upon layers of falsies.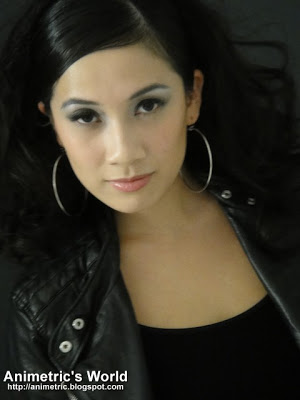 I was happy with the turnout. I didn't know if I could pull it off. My pegs were Amber and Blondie at the same time since both are Asian. I actually liked Baby Doll's look best but it's best done on caucasians.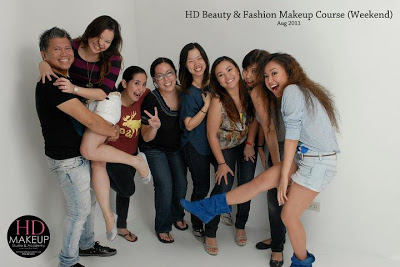 It was a long but super fun graduation day. We were in school by 9:30am and we left by 8:30pm. I had a great time throughout the course since I was in good company. I learned whole lot too, from the secrets of applying durable make-up requiring no retouch for 12 hours to tricks I can use in applying false eyelashes seamlessly. My eyes were also opened to ranges of professional grade products with a higher percentage of pigmentation compared to the over-the-counter department store brands we're exposed to.
I will talk about the make-up I used in detail for my two portfolio looks in another post, perhaps when I get the hi-res photos in a couple of weeks. 🙂

Like this post? Subscribe to this blog by clicking HERE.
Become a Facebook Fan for more updates from Animetric's World.