Whenever we travel to Tokyo, hubby and I stay at this quaint business hotel in Akihabara called Tokyo Green Hotel. Prior to my trip to Tokyo last May for Yakult, several years had passed since I had last visited Tokyo. Our most recent Japan trip took place in 2008 and we went to Osaka. All that said, it was my first time to stay in a different hotel in Tokyo — Hotel Villa Fontaine Tokyo Shiodome.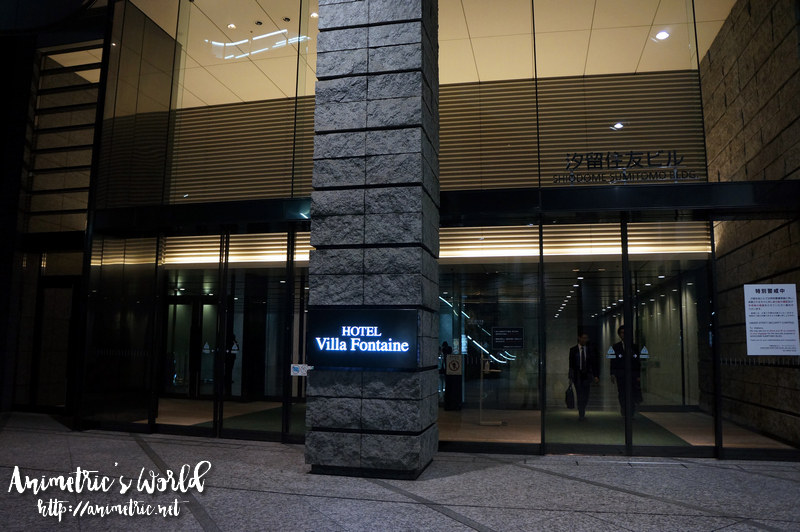 Hotel Villa Fontaine Tokyo Shiodome
Hotel Villa Fontaine looked a lot more um… formal compared to Tokyo Green Hotel. It's located in Shiodome which is just across the Ginza shopping street. Taking the train is easy because the Shiodome station is maybe a 2-minute walk from the hotel entrance.
Upon going in, you'll encounter another entrance which leads to the actual hotel lobby because Hotel Villa Fontaine is located inside the Shiodome Sumitomo Building. The Shiodome Sumitomo Building is right next to the Yakult Honsha (Yakult HQ!).
My friend Sophie and I got a Superior Room furnished with a double bed (160cm in size).
The room also had a study table, a flatscreen TV, a refrigerator, complimentary coffee and tea, an air purifier/ionizer… we had free wi-fi and wired internet too.
Check out the speed of their free wi-fi. The wired connection is even faster! Too bad I didn't really have time to make the most of the fantastic connection speed.
You also have a phone and alarm clock, you can pretty much manipulate all the lights via this panel beside your bed. I also love that our room was very close to the vending and ice machines.
The bathroom is tiny but complete. This is the norm in Japanese business hotels. The toilet, sink, bathtub, and shower are all beside each other.
Compact as the bathroom is, it comes complete with everything you need — hair dryer, cotton buds, dental kit, comb/brush, shower cap, bath salts…
They even provided Shiseido toiletries — Face Soap, Body Wash, Shampoo, and Conditioner.
There's a small closet you can use to hang your clothes. Slippers are provided too.
Wow, there's even a Shiseido fabric freshener inside the closet. Japanese people like to smoke and most establishments don't really have separate smoking and non-smoking areas so this really comes in handy when trying to get rid of the cigarette smell on your clothes.
Hotel Villa Fontaine provides complimentary breakfast everyday for its guests. This dining area beside the lobby is where they serve it.
There are maybe 4 different breakfast menus that rotate and I got to try them all since we stayed there for 7 days. You get a cafeteria-like tray like the one above and queue up for the self-service buffet style breakfast. I love Hotel Villa Fontaine's freshly baked breads, hot soups, and salad. It's always a balanced meal because there are always breads, rice, veggies, meat, fruits, yogurt, cereals, and eggs. I got to drink organic coffee too. I love breakfast at Hotel Villa Fontaine and they start serving it at 6am.
What I like about Hotel Villa Fontaine Tokyo Shiodome:
The location is super convenient — there are a lot of commercial buildings with lots of restaurants beside it plus the train station is just a minute away. You only need to cross the street to get to Ginza. It's walking distance to the Hamarikyu Gardens too, an attraction I have always wanted to visit.
The room is clean and well-maintained.
The room is more spacious compared to the usual Japanese business hotel room.
The free internet connection is super fast!
The free breakfast is delicious.
Shiseido toiletries abound.
The front desk staff can speak and understand English.
The room rates are reasonable. The superior room like the one we stayed in costs anywhere from US$116 to US$165 per night depending on when you book.
Downside? Well, the bed is kinda hard lol but I was told this is normal in Japan hahaha. Would I stay there again? Yes I would, in fact I recommended it to friends and relatives who have upcoming trips to Japan.
Hotel Villa Fontaine Tokyo Shiodome
1-9-2 Higashi-Shinbashi,
Minato-ku, Tokyo, Japan
+(81)3-3569-2220
http://www.hvf.jp/eng/shiodome.php
Like this post? Subscribe to this blog by clicking HERE.
Let's stay connected: