Our family decided to spend the long weekend (Nov. 5-7, 2011) in Baguio City with some friends. Decades have passed since my last visit. I think I was still in elementary school back then. I remember staying at a rented house near Green Valley. We also went horseback riding and boating in Burnham Park… but that's about it.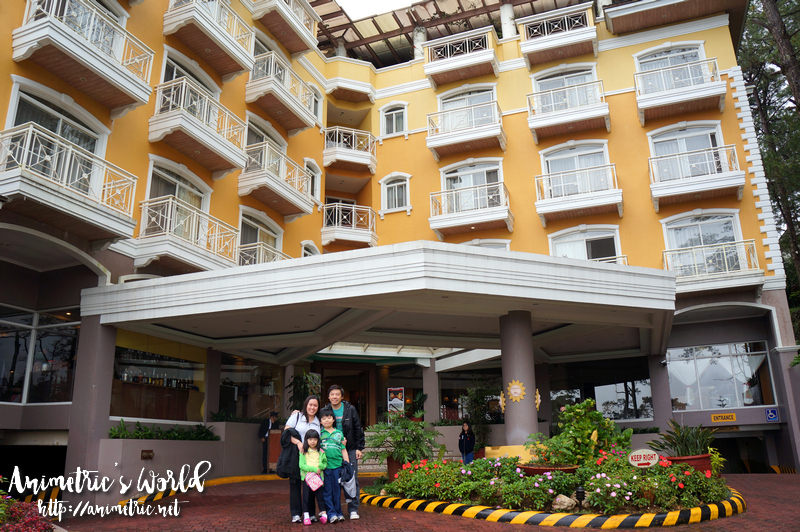 Anyhow, hubby has been wanting to take the kids to Baguio for quite some time now. Lucky for them we were staying at Hotel Elizabeth! It's really more convenient and relaxing to stay in a hotel. I remember having to clean, wash, and fix everything myself at the rented house we stayed in ages ago.
Hotel Elizabeth's bright and welcoming yellow interiors greeted us as we made our way to the check-in counter. There's even a quaint fireplace by the sofas! Socialite Tessa Prieto-Valdes is Hotel Elizabeth's interior designer. Hotel Elizabeth has been hailed as Baguio's Hotel of the Year for 3 years.
We stayed in an Executive Suite at Hotel Elizabeth which is good for four (4) people. The published rate is P6,720 per night but you can actually book online at sites like agoda.com or hotels.com and get it for around P5,500. The Executive Suite includes a living room furnished with a convertible sofa bed (pictured above) and a 21-inch colored TV with cable service (Skycable). You can get a regular double room for less than P4,000.
The suite also comes with a kitchenette that's equipped with a small refrigerator, a kitchen sink, a small round dining table, and a microwave oven.
You also get complimentary coffee, tea, and bottled water (not included in photo) that are replenished daily. 🙂
The Executive Suite has two bathrooms. One is located beside the kitchenette. It's the smaller bathroom of the two and is equipped with a sink, toilet, and shower.
This is the bedroom. It has a queen-sized bed and another 21-inch colored TV. There are also cabinets wherein you can hang your clothes as well as a safe you can store valuables in. Four (4) pairs of bedroom slippers are also provided.
This is the second bathroom. It's bigger because instead of a shower area it has a bath tub with a detachable shower head. Both bathrooms have two (2) sets of towels, hair dryers, shampoos, soaps, shower caps, and toothbrushes.
At Hotel Elizabeth, rooms come with free breakfast in proportion to the number of people a room can accommodate. Since our room was good for four (4) people, we got the same number of breakfast vouchers multiplied by the number of nights we were staying. In our case it was two (2) nights so we got a total of eight (8) vouchers. You can avail of the breakfast buffet on the ground floor near the hotel entrance.
The eat-all-you-can breakfast buffet at Hotel Elizabeth consists of Pinoy favorites like sinangag (fried garlic rice), fried fish, sunny side up eggs, corned beef…
…longganisa (Filipino sausages), tocino, tapa, and other savory breakfast viands.
There's also fresh garden salad, mini pancakes, French Toast, an assortment of freshly baked breads, cold cereal with milk, as well as the most strawberry-filled jam ever! You can get brewed coffee, tea, or juice with breakfast. 🙂
My kids liked the pancakes. They're served with Hotel Elizabeth's very own homemade margarine on the side.
After breakfast we took a tour around the hotel to check out the facilities. Hotel Elizabeth is one of the few establishments in the city which has an expandable ballroom that can accommodate a large number of guests.
They also have quadruple rooms that are ideal for corporate events or friends who'd like to travel together. 🙂
We were also shown the Penthouse Suite. It has a loft.
I love the Penthouse Suite's country style blue-themed rooms.
Going out to the balcony of almost any room in Hotel Elizabeth gives you a nice view of the area the hotel overlooks. 😀
All the rooms have ceiling fans instead of air-conditioners so you can experience Baguio's naturally cool climate. There is also free unlimited wifi internet access throughout the hotel. It's 2 minutes away from destinations like Wright Park, Mines View Park, and The Mansion too. Please note that they charge on a per head basis if you go beyond the number of people a room can accommodate.
We were very happy with our stay at Hotel Elizabeth in Baguio City. 😀
P.S. I think their freshly baked raisin bread is way better compared to Baguio Country Club's.
Hotel Elizabeth
1 J. Felipe cor. Gibraltar Road,
Baguio City, Philippines
+6374-6190367
http://www.hotelelizabeth.com.ph
Like this post? Subscribe to this blog by clicking HERE.
Let's stay connected: