I'm finally on BB Cream review no. 29 and for today I have Holika Holika Watery Petit BB Cream! I got a really great deal for the Holika Holika Watery Petit BB Cream SPF 25 PA+++ during SM Beauty Makati's opening sale. It was priced at P325 then I got to take 10% off because I reached P1,500 worth of purchases so it came out to P292.50!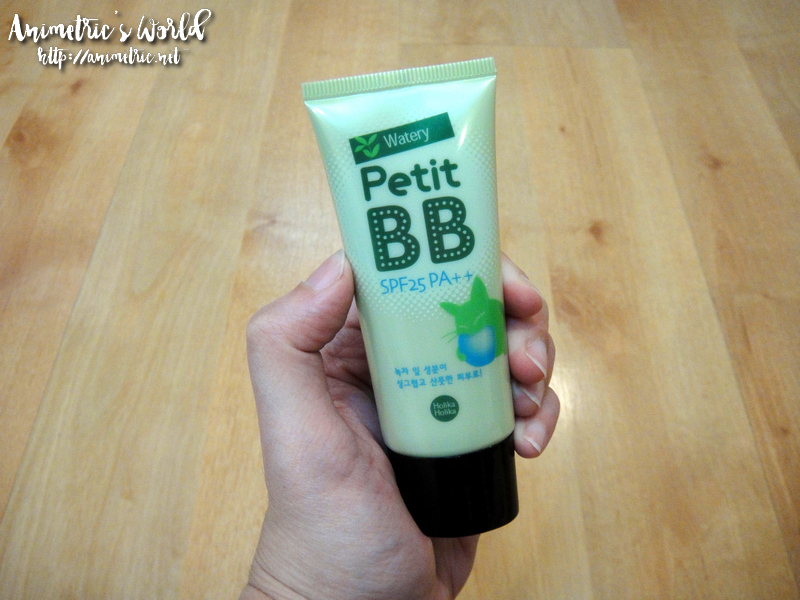 There are actually 5 variants under the Holika Holika Petit BB line: Essential BB, Moisture BB, Clearing BB, Shimmering BB, and Watery BB. I got the Holika Holika Watery Petit BB Cream because I wanted something light I could use everyday without feeling like I have gobs of makeup on my face. It's formulated with Green Tea Leaf extract and glacier water. It's recommended for normal skin. It's the one that's recommended for a no makeup look.
It comes in only one shade, luckily it matches my skin!
Here's a before and after application photo.
I like the finish which is on the matte side as opposed to the more dewy, shimmery ones I usually end up with. I did not need to top the BB off with powder because it was already perfect as is — my skin but better.
These are photos right after application and 5 hours after. I would probably be less shiny if I applied powder. But I don't mind, it's actually not bad considering I did not blot anytime during those 5 hours.
This is how it looks under natural light, I took this photo as soon as we drove out of the house.
What I like about Holika Holika Watery Petit BB Cream:
It's so lightweight it's easy to forget you have anything on your face.
It matches my skin tone perfectly.
It's like my skin but better as it brightens and dries to a natural finish.
It's more matte compared to most BBs I've tried and you know I've tried a lot, lol!
It's super cheap at P325 for a 30ml tube!
It has a pleasant scent.
I don't need powder when I use this.
It's got SPF 25 PA+++
Downside? Coverage is on the light side so if you need to cover a lot of flaws and blemishes, it might not be enough. Plus there's only one shade available but since it's light coverage, it won't drastically change your skin color. Other than those points, this is the best BB Cream I've used in a long time and definitely a great one to use on a daily basis!
Holika Holika Watery Petit BB Cream SPF 25 PA+++ is available at the Holika Holika boutique in SM Fairview and in the SM Beauty section of SM Cubao, SM Makati, SM Mall of Asia, and SM Manila.
Like this post? Subscribe to this blog by clicking HERE.
Let's stay connected: