I received this Holika Holika Angel's Ring Bubble Hair Color Kit (P395) for review last year but it's only last month that I actually got to try it.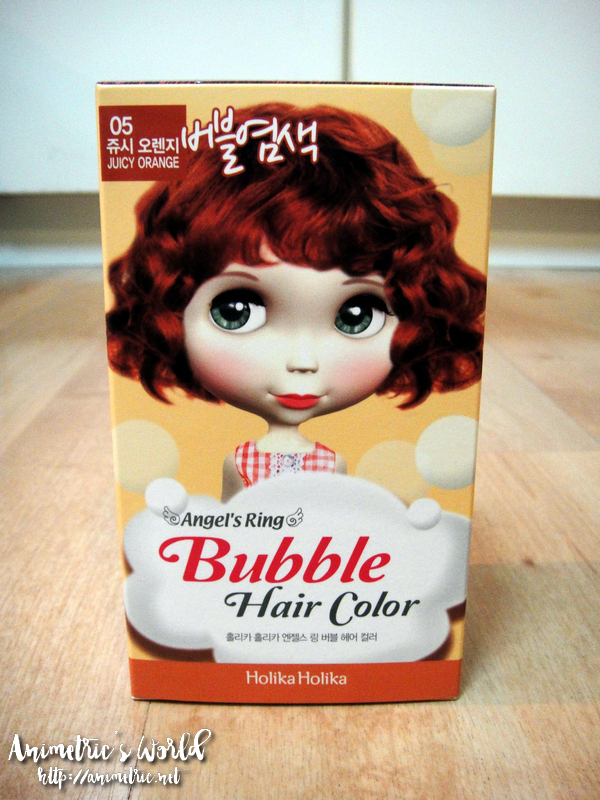 Instead of real people, the boxes feature what looks like Japanese ball-jointed dolls (think Blythe doll) with hair in different colors. I picked shade 05 Juicy Orange.
The Holika Holika Angel's Ring Bubble Hair Color Kit contains the usual bottle of hair color, pump dispenser with oxidizer inside, plastic cape, gloves, instructions, and hair treatment sachet.
You empty the bottle of hair color to the pump dispenser and swirl the contents around so they mix well. Do not shake, just swirl.
After swirling, you are now ready to color your hair. Start by putting on the gloves. The foam can stain your nails and won't go away for days so don't start without the gloves.
The box illustration shows you how it's done.
This is what the foam looks like. After dispensing on your gloved hand, cover your entire head of hair with it. You can section your hair so that every strand is covered evenly. You can do this more easily with bubble hair color as compared to cream hair color.
After you've covered your hair with the foam, leave it on for 30 minutes. After 30 minutes, shampoo away and then use the sachet of Angel's Ring Argan Hair Treatment. Apply it after rinsing your hair, just as you would conditioner. Leave for a few minutes and then rinse off thoroughly.
My hair was already colored prior to using this but the bright orange tone did lighten my hair some more.
What I like about Holika Holika Angel's Ring Bubble Hair Color:
Like the other bubble color kits I've tried, it's very convenient and easy to use so you can do it yourself.
Last time I checked, there are 6 shades available.
It's effective — my hair was lightened with a bright orange tone.
It smells nice and I didn't feel any fumes go into my eyes (this is true for all the Korean hair coloring kits I've tried so far).
It's reasonably priced at P395 per kit.
Downside? I felt the resulting color was not as dramatic as the other Korean brands I've tried… but then my hair is a lot more damaged now compared to before so that might have been a factor. There's also no grey coverage so if you have a lot of white hair, this product isn't going to conceal them.
Holika Holika Angel's Ring Bubble Hair Color is available for P395 at Holika Holika's boutique at SM Fairview and Holika Holika counters at SM Department Store in SM Cubao, SM Manila, and SM Mall of Asia. You can also buy online from Lazada and http://glamourbox.ph.
Like this post? Subscribe to this blog by clicking HERE.
Let's stay connected: