Hubby and I took a quick trip to Hong Kong with our high school friends last March 16-19, 2011. We stayed at Holiday Inn Express Hotel in Causeway Bay. It's located right across Times Square Plaza.
Although I've been to Hong Kong countless times, it was my first time to stay at Holiday Inn Express Hotel. It cost US$160 per night when we booked, inclusive of free breakfast. Well, you don't really get much choice in the matter. Every reservation automatically comes with free breakfast even if the online booking site (like agoda.com) says otherwise. The good news is, breakfast is actually decent… but more on that later.
I just checked now and at the time of this posting the rate is at US$135 per night. It's really a matter of luck when booking online, but as a general rule you get cheaper rates and more options if you book something like 3 months before the trip. We booked it a month before so choices were quite limited.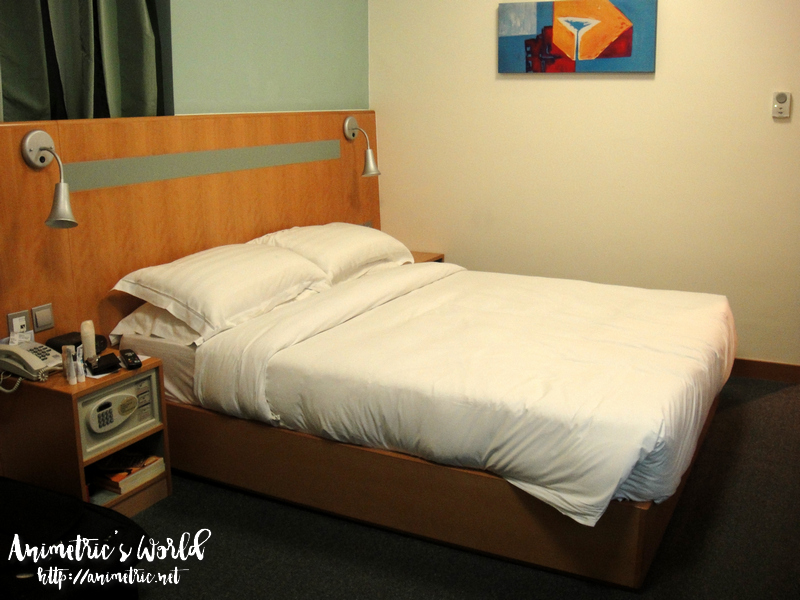 We got a Standard Room, which was the least expensive type available. You can specify that you want a non-smoking floor. It came with a double bed that was all neatly folded and turned since we arrived around 9pm in the evening. There's a digital safe by the bedside too.
The room also has a study / dresser area with a mirror and a LAN cable so you can avail of the free unlimited broadband internet service. Problem was, my stupid HP Mini 311 doesn't seem to have an ethernet controller built-in so I could not use it. My friends who did told me that the connection is very fast though. There's also a TV, hair dryer, and an electric kettle so you can use the complimentary coffee and tea packets.
There's a built-in closet with a small refrigerator, two pairs of bedroom slippers, hangers, and extra pillows. The closet door has a head-to-toe mirror attached to it.
The bathroom is small, clean, and modern. You're supplied with the basic necessities: toothbrush kits, shower caps, sanitary bags, and even liquid soap plus shampoo and shower gel. What I didn't like were the towels… they felt very thin and ratty as if they couldn't even dry dishes.
This is the toilet area. The enclosed shower is located to the left. It's equipped with two full rolls of toilet paper upon check-in.
Upon check-in you are given free breakfast vouchers corresponding to the number of nights you are staying. You can avail of this at HIPOT / HITEA on the third floor of the hotel. Breakfast time is from 7AM to 10:30AM. There's free wi-fi access in this area too. 🙂
There are six (6) breakfast sets to choose from. Each comes with orange juice and either tea or coffee plus a small bowl of sliced fresh fruits. Hubby and I always opt for Set A which consists of Congee with Cuttlefish, Meatballs, and Fine Sliced Lettuce. It's pretty tasty.
Steamed Mantou Buns are included as well! So yummy, it's my first time to try chocolate-laced mantou. 😀
It's served with complete condiments on the side too, namely bicho-bicho pieces, hard-boiled egg, and salted peanuts. Refreshing watermelon and sweet melon slices complete the meal. Breakfast is pretty good, it's super convenient too. Other choices include the usual western style set with toast, scrambled eggs, bacon, and hash brown. The set with the least value for me was Set D which consisted of oatmeal, yogurt, and fruits. Surprisingly though, it was what a lot of caucasian guests would order.
All in all we had a nice stay at Holiday Inn Express Hotel. Location is pretty good since it's right across the sprawling upscale mall which is Times Square Plaza, and shops like 7-Eleven, Sasa, Bonjour, Esprit, Bossini, Uniqlo, and Giordano are all within walking distance. There's easy access to the subway too via the Causeway Bay Station. The free hotel shuttle from Central Station doesn't stop at Holiday Inn Express though. We took a cab from there and the cost is about HK$38-40.
Holiday Inn Express Hotel
33 Sharp St.,
Causeway Bay, Hong Kong
(852)3558-6688
http://www.hiexpress.com/hotels/us/en/hong-kong/hkgcw/hoteldetail
Like this post? Subscribe to this blog by clicking HERE.
Let's stay connected: