Herve Leger. Pronounced as "air-vey ley-jey", at least that was what I was told, is a name that's synonymous with Hollywood A-listers. Whenever there's something like a high society party, an awards show, a launch event and so forth, there's always somebody who's somebody in an Herve Leger dress.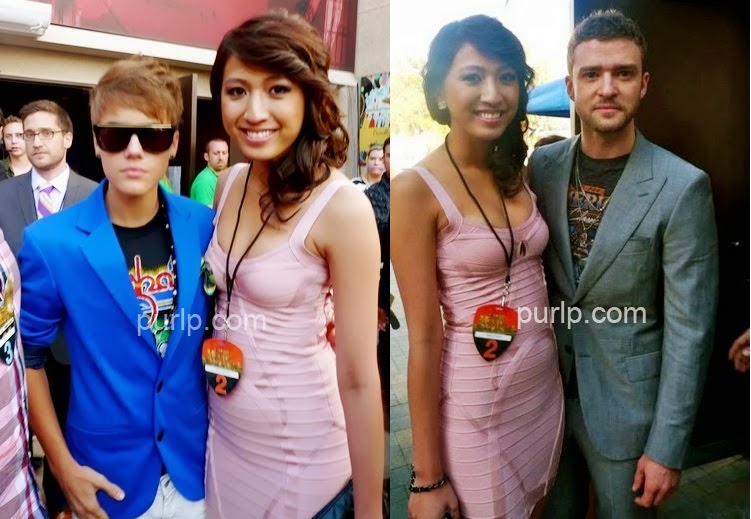 The controversial Jeane Napoles in a baby pink Herve Leger dress with Justin Bieber (above left) and Justin Timberlake (above right).
In the Philippines, the controversial Jeane Napoles (daughter of alleged PDAF scam mastermind Janet Napoles) is one of Herve Leger's happy customers, although the brand wasn't in the country yet at the time she was flaunting her dress on her now defunct Instagram account. What's so special about Herve Leger? I was about to find out.
I was invited to Herve Leger's official Philippine launch and grand opening last March 11, 2014. The event was hosted by Tim Yap. Beauty mogul Dr. Vicki Belo was one of the ribbon cutters.
Ah, so these are the dresses celebrities and socialites the world over are wearing.
This is the Agnese Colorblocked Puffa-Print Dress. I didn't look at the price tag but I assure you this dress costs 5 digits in Philippine pesos, although EVERYTHING was 50% off that evening.
Herve Leger has gowns for formal occasions too. The one on the leftmost side is the Geena Beaded Gown in Silver Dove. Can you guess how much it costs?
The gown costs P138,600 — if you take 50% off the tag price, it comes out to P69,300.
Herve Leger has purses too.
Dresses, shoes, and even swimwear…
This is the Hanah Tipped Scalloped-Edge Dress.
It's P92,300… a little under P50k at half off.
This one is quite corporate-looking.
The store has several racks filled with dresses.
More purses.
There were a lot of celebrities and personalities that night, the nicest of whom was Alice Dixson. My companions and I had the pleasure of briefly sharing a table with her. She told us that she moved back to the Philippines from Canada to pursue her career. She's very warm, friendly, and down-to-earth. I've always thought that she possessed one of the prettiest faces in showbiz, from way back when I first saw her in that Palmolive "I can feel it" TVC which propelled her to stardom. She is still super beautiful even after all these years! I'm a fan!
With regards to Herve Leger dresses, I heard Cristalle Belo Henares say that she likes them because they can hide all your unsightly bulges (notice the bandage pattern in almost all the dresses?). But wow, the price! I think I will only buy an Herve Leger dress if:
I become super slim by some miracle.
I become super rich by some miracle.
Lol.
I admit to splurging on expensive designer bags but I feel that bags are more worth it since I can use them daily.
Do you know that this is the first Herve Leger store in Asia? The Herve Leger boutique is located in Shangrila East Wing.
Like this post? Subscribe to this blog by clicking HERE.
Let's stay connected: