Have you heard of Hello Gorgeous? They're the brand behind the quirky, colorful, and mostly unicorn-themed beauty products I've been seeing on social media. I've always been curious about what they have to offer so I dropped by when they opened shop at SM North EDSA last week. They're located on the 2nd level, near Cinnabon.
The store is pretty small, but it's fully stocked with all the products they have listed at their online store.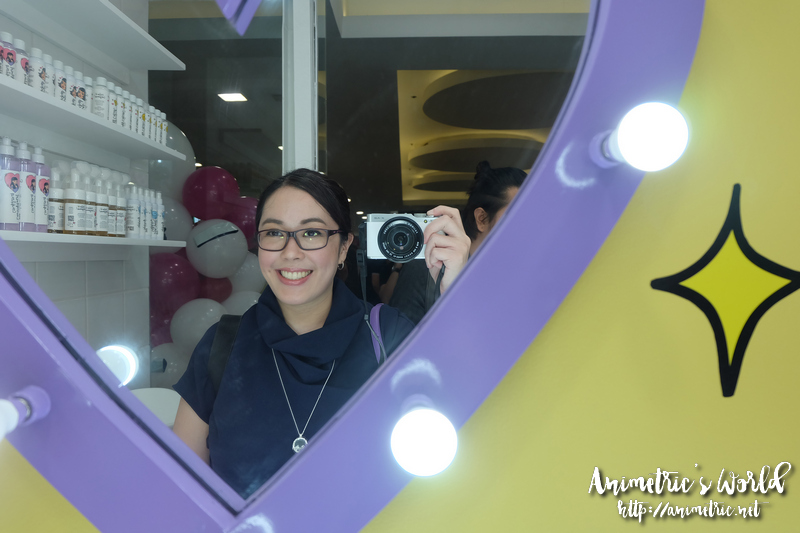 Lol, I'm such a fail at mirror selfies. They have these lighted heart-shaped mirrors in case you want to try out some products.
There are products for the face, hair, and body — shampoo, conditioner, salt spray, face wash, lotion…
They also have masks, scrubs, and creams too. All the skin, body, and hair care products are made with natural ingredients.
These Magnet-oh! Lashes are bestsellers and are often out of stock at the online store. They're available in Glam (left) and Natural (right).
So what did I get from the Hello Gorgeous store at SM North EDSA?
Since it was their grand opening, there were a few promos. All their soaps were buy 1 take 1! They have 7 kinds of soap — 6 for the body and one for the face. I got 4 kinds of body soap namely Oatmeal Soap, Tea Tree Soap, Goat's Milk Soap, and Brightening Soap (Papaya). These normally sell for P150 a piece but I was able to get 2 pieces for P150.
All of their soaps are made of natural ingredients and VCO-based (Virgin Coconut Oil). I like that I can actually read all the ingredients. So far we've tried bathing with the Tea Tree Soap, which has almond grains for exfoliating. We love it! It's non-drying and the fragrance is light and just right. Can't wait to try the rest.
Their Honey Lip Scrub (P150) was also buy 1 take 1. I got 2 for P150, one jar for me and one jar for my daughter. Love that it's made of organic honey, brown sugar, almond oil, aloe vera, and Vitamin E. My daughter beat me to the punch with product testing. She said it smells nice and it effectively got rid of the chapped dry skin on her lips.
Now I've always wanted to try using magnetic falsies so I grabbed a pair of Magnet-oh! Lashes in Natural.
This is another product that's always out of stock online, the Unicorn Brush Wash (P200). I was surprised to find an actual unicorn head inside, hahaha! Anyway, you're supposed to wet and lather up the makeup brush, then swirl it on the unicorn to clean it. The unicorn looks like sugar-covered gummy and I'm currently on an extreme diet so it was looking pretty yummy to me lol.
I also got their Gugo Shampoo (P180) and Lavender Mint Conditioner (P180). The Gugo Shampoo supposedly reduces hair fall and makes hair thicker. It's also infused with Argan Oil. The Lavender Mint Conditioner is VCO and Argan Oil based, formulated to soften the hair.
Since I'm in the market for a highlighter, I grabbed a bottle of Unicorn Tears (P250). The problem is, I didn't know there were 2 shades and the salesperson didn't bother to inform me. She just gave me the one called Moonlight.
Moonlight is a bronze shade that's good if you're gunning for the sun goddess look. I'm more of the snow queen type so um… no.
Like I said, bronze. I think this is better for contouring if your skin is on the light side like mine.
Gosh, it actually works as a bronzer. This product will give darker-skinned folks a really nice glow. Not me though, it's skin color-changing for me.
So far I'm loving the soaps and lip scrub. Will probably post a review of the magnetic falsies soon.
You can purchase Hello Gorgeous products online at https://www.hellogorgeousph.com. Or you can visit the newly opened Hello Gorgeous store at SM North EDSA store for a more hands-on experience.
Like this post? Subscribe to this blog by clicking HERE.
Let's stay connected: