Dark undereye circles have been a problem for me for as long as I can remember. It may have something to do with my lifestyle as a night owl. I've always slept late. Doesn't help that I'm an early riser at the same time. I think I started using concealer in college… yet up until now I haven't really found the perfect one.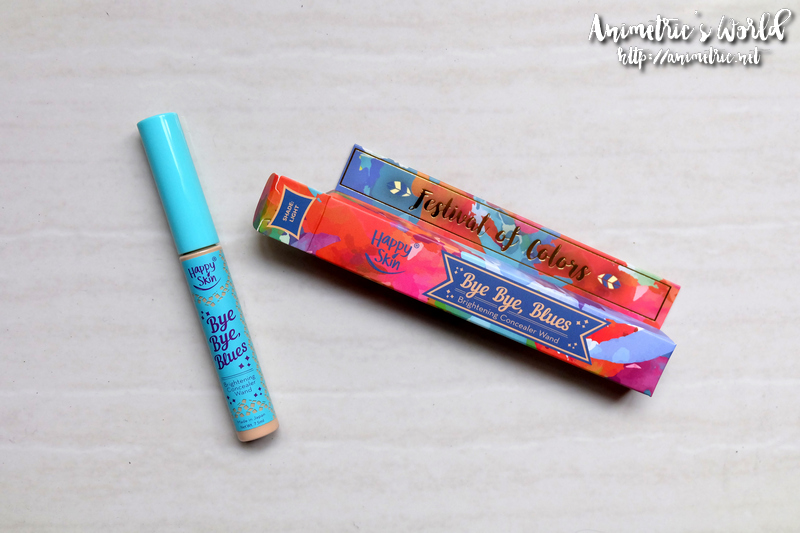 I've been using the new Happy Skin Bye Bye Blues Brightening Concealer in Light Beige for a couple of weeks now. I got it from the Happy Skin Festival of Colors launch.
The Happy Skin Bye Bye Blues Brightening Concealer is a liquid concealer with a sponge tip applicator wand.
It's available in 2 shades: Light Beige and Medium Beige. Based on my skin tone, my shade is Light Beige.
I have really bad dark undereye circles. The way I apply concealer these days is like this:
I apply my choice of base face product first. For me, that's BB cushion. I'm not really a fan of foundation because I find it too thick and heavy most of the time. I don't use primer unless I need my makeup to last a really long time.
After the base product, concealer is next. I draw 3 slanted strokes under each eye and then blend. But for this concealer, 3 slanted strokes is too much so I've cut down to 3 dots under the eyes.
After the concealer is blended, I finish with translucent powder. Then I do my eyebrows, eyes, apply blush, and then lip product.
I'm pretty happy with the Happy Skin Bye Bye Blues Brightening Concealer. This is pretty much my usual everyday makeup look for casual events. No event? No makeup, lol!
What I like about Happy Skin Bye Bye Blues Brightening Concealer:
The shade I got matches my skin perfectly.
It's really easy to apply and blend.
It's not heavy or cakey. I hate eye makeup products that crease.
It brightens my eye area instantly.
It's lightweight so it's easy to forget you have it on.
Downside? It's on the pricey side at ₱899 per tube but it gets the job done so it's worth it.
You can purchase Happy Skin products online from the Happy Skin Flagship Store on Lazada.
Like this post? Subscribe to this blog by clicking HERE.
Let's stay connected: