Every time I go grocery shopping, I always buy 2-3 loaves of Gardenia bread. My children love Gardenia Double Delights Ubelicious-Cheesy Twirl and they usually bring filled Gardenia White Bread to school as baon. Can you just imagine my excitement when I was invited to a Gardenia Factory Tour?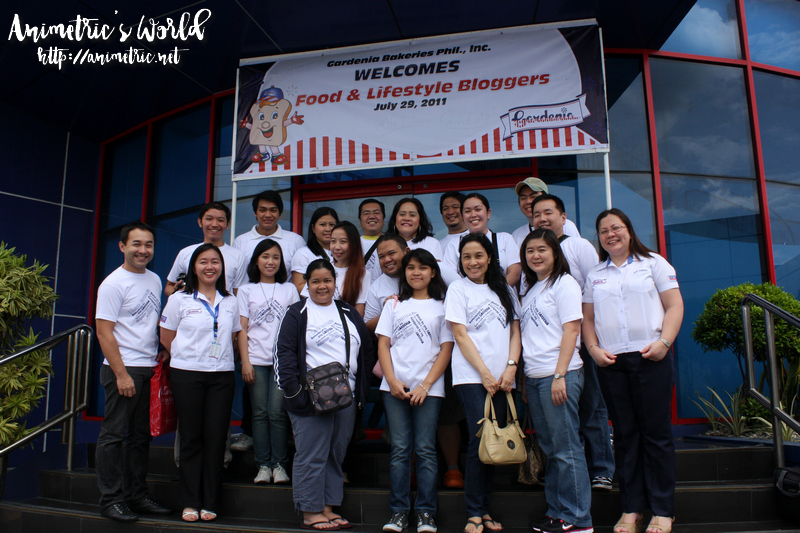 There was no way I was going to miss the Gardenia Factory Tour. My fellow bloggers and I took the trip last July 29, 2011.
Gardee, Gardenia's mascot, was a very welcoming sight at the lobby. 😀
After registration and a short video presentation, we were whisked off to the fully automated production area. The first thing I saw was the tons of flour (or was it sugar???) that was going to be used for making bread. Take note that the ingredients, dough, and bread are never touched by human hands.
This is the bread dough.
The dough gets sectioned into balls. One ball makes one loaf. I found the dough balls moving along the conveyor kind of cute. :p
The balls then go into rectangular loaf pans for baking.
After the bread is baked, they're taken for a spin at the colossal cooling towers. That's a whole lot of bread up there because the Gardenia plant produces a whopping 6,000 loaves an hour.
Here's a closer look at the loaves being spun around in the rotating carousel-like tower.
The loaves get packed into plastic bags when they cool. Thhey are put into trays for loading onto the delivery trucks. At present, Gardenia has 150 trucks in its fleet. The Gardenia Factory Tour felt like an episode off Discovery Channel's "How It's Made", which is one of my family's favorite shows.
We sampled a loaf of Gardenia White Bread fresh off the oven. It was piping hot. My goodness, it smelled soooo good!
Of course I had a pinch of the freshly baked bread. It was very soft and yummy!
We enjoyed a Gardenia sandwich buffet brunch. We had Gardenia Easy Quesadillas, Gardenia Tuna Maki Rolls, Gardenia Spanish Milkfish Sandwich, Gardenia Ham and Jam, Gardenia Choco Mocha Rhum Balls, and Gardenia Frozen Delights. You can find the recipes at http://www.gardenia.com.ph.
I'm suggesting the Gardenia Factory Tour as a field trip activity to my kids' school administrators. I think kids especially will enjoy the experience and learn a whole lot about something they eat almost everyday.
A big thank you to the folks over at Gardenia for the hospitality. I really had a great time! 😀
You can purchase Gardenia products from the Gardenia Flagship Store on Lazada.
Like this post? Subscribe to this blog by clicking HERE.
Let's stay connected: