I hate getting flowers as a gift. I always have and I always will. Yes they are pretty but they are also a useless waste of money because they just wilt and die. When my hubby and I were not yet married, I explicitly told him never to give me flowers. Ever.
Passion by Fruits in Bloom (P2,500)
I'm so glad that there are now a lot of alternatives to flowers. The closest thing to flowers that I would rather get is a fruit bouquet, like the one Fruits in Bloom makes. I first encountered Fruits in Bloom back in November 2011. Their edible arrangements are just as pretty and colorful as flowers but instead of throwing them away when they wilt, you can eat them as soon as you get them!
Fruits in Bloom sent me a big fresh fruit bouquet as an advanced Valentines Day gift. A big white vase was filled with white chocolate covered apple wedges, strawberries, grapes, oranges, and a heart-shaped pineapple.
Love how each and every Fruits in Bloom edible arrangement is both pretty and yummy! The fruits are all skewered so all you have to do is pull one stick out of the vase and eat.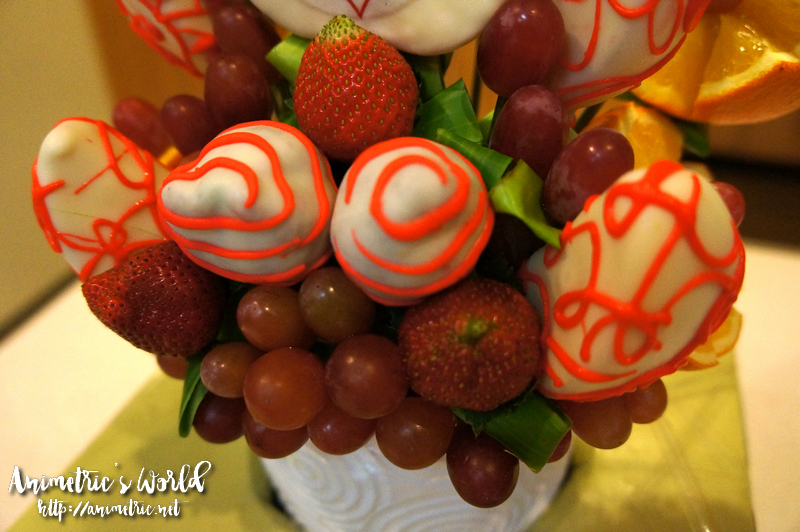 Look at how big the strawberries, apples, and grapes are! We really loved the white chocolate covered apples.
Valentines Day Edible Arrangements by Fruits in Bloom
This Valentines Day, why not surprise your special someone with a beautifully indulgent bouquet of fruits and chocolates from Fruits in Bloom? Valentines-themed arrangements start at P1,200 but there are also all-occasion ones that go for below P1,000. Check them out at http://www.fib.com.ph/.
Would you like to try a Fruits in Bloom edible arrangement? You're in luck because I'm giving away five (5) of them! Giveaway is open to everyone who can pick up the prize at Robinsons Magnolia from Feb. 12 – 14, 2015. Just follow the mechanics below for a chance to win!
Good luck! Fruits in Bloom edible arrangements are really a lot more enjoyable than flowers any day. What do you think? 🙂
Congratulations Kristina Letada, Eddielli Bungay, Michelle Katherine Tan, Judy-L Vera, and Sally Abella-Yu! You've each won a Valentine arrangement! I will e-mail you with regards to prize claim.
Fruits in Bloom
L/G Robinsons Magnolia
Aurora Blvd., Quezon City
0949-8544145 / 0933-3482601
Like this post? Subscribe to this blog by clicking HERE.
Let's stay connected: