Do you like ice cream? I normally don't but I do like trying out unique ice cream flavors… and you can find a lot of those at Freezer Burn.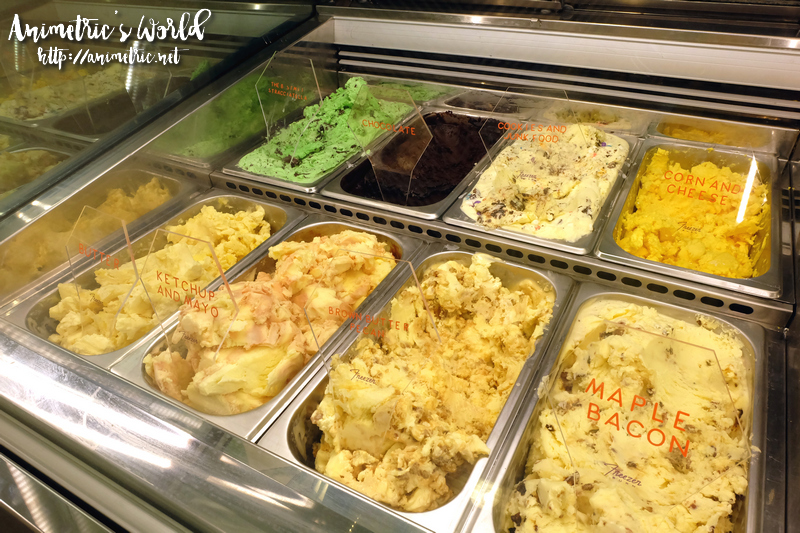 Freezer Burn is the newly opened ice cream shop along Bonifacio High Street (located near Fowl Bread across Krispy Kreme). They don't have normal ice cream flavors here except for maybe Chocolate and Mint Stracciatella (Mint Chocolate). What they have are Butter, Ketchup and Mayo, Brown Butter Pecan, Maple Bacon, Cookies and Junk Food, Corn and Cheese. They all sound so interesting I was actually pretty torn on which one to try. Hubby, the kids, and I decided to each get a "Composed Dessert", which is a unique Freezer Burn creation made of ice cream and more. Composed Desserts cost P295 each.
My daughter got Ola! which is a combination of chocolate ice cream and churros. The big scoop of rich and velvety chocolate ice cream is nestled on a bed of meringue bits. It also comes with white chocolate sauce in a syringe and a frosted shortbread cookie. My daughter was dipping the churros into the ice cream lol! She finished the entire thing and said the churros were really nice and chewy.
Hubby had Thick Mints. It's comprised of a big scoop of mint stracciatella ice cream and brownies. It comes with chocolate sauce in a syringe and bright yellow cotton candy. Lots of meringue bits underneath too. Hubby normally doesn't like pastries but he said the brownies were really really good.
My son tried Morning Glory. It's made up of a maple bacon ice cream cone, brioche toast, popcorn, and cotton candy. He said it's delicious. I could barely talk to him while he was wolfing it all down.
As for me, I settled for G'Day Mate. A big scoop of butter ice cream, sticky date pudding, caramel sauce in a syringe, and cotton candy make up this divine dessert. OMG I so loved the butter ice cream! The sticky date pudding wasn't the least bit sticky, in fact it was kind of dry. The dose of caramel sauce fixed the problem somewhat but I do hope they improve the sticky date pudding.
Their ice cream costs a whopping P150 per scoop but I love the chunky yet creamy texture. There's just an unprocessed feel to it, like it was made by hand. The flavors are heavenly too. I'm definitely going back to try the other ice cream flavors — top of mind are Ketchup and Mayo or Cookies and Junk Food. So yummy!
Freezer Burn
Bonifacio High Street (across Krispy Kreme)
Bonifacio Global City, Taguig City
Like this post? Subscribe to this blog by clicking HERE.
Let's stay connected: