Japanese food is one of our family's favorites. Sad to say we haven't really had anything authentic since quarantine started. But that changed when we experienced Fumizen Japanese Restaurant's food delivery service. Fumizen Japanese Restaurant is an international franchise from Tokyo with 40 years of Tonkatsu experience. But they don't just serve Tonkatsu, they have a lot of other offerings as well.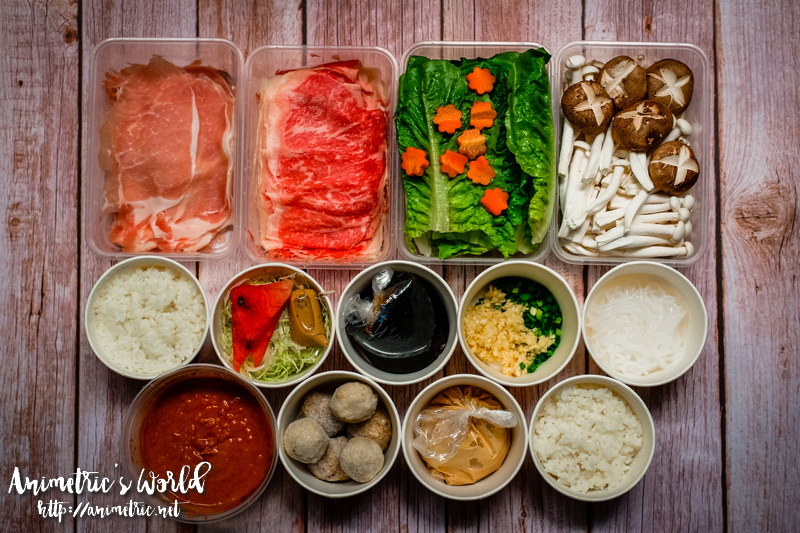 We got a Shabu-Shabu Set which came with EVERYTHING — sliced wagyu beef, sliced pork, mushrooms (enoki, shimeji, and shitake), meat balls, beef balls, shirataki noodles, rice, lettuce, and a spicy miso soup base. They even included ponzu and goma dare sauces for dipping. Shabu-Shabu set prices start at P899 for 2 people.
My gosh, just look at the gorgeous wagyu slices.
I added the soup base to 1 liter of water then put in the meat and vegetables and brought everything to a boil. Wow, just wow. This is the best hot pot we've all had in a while. The wagyu beef is so buttery and heavenly. Their sliced pork is excellent too. I had mozzarella balls in the freezer so I added some to the pot. Even their dipping sauces are superb.
We also had Iberico Tonkatsu with Rice Set (P475) and Prawn Katsu with Rice Set (P475). I was so awed by the pretty, stackable bento boxes! Both sets included Japanese rice, dipping sauces, miso soup, shredded cabbage, and watermelon slices.
The Prawn Katsu comes with 3 big and buttery tiger prawns with tartar sauce on the side. Meanwhile, the Iberico Tonkatsu uses meat from the Black Iberian Pig. They serve it with tonkatsu sauce on the side.
The Prawn Katsu is succulent and fresh. I was impressed by how big and meaty the prawns were.
The Iberico Tonkatsu is just as delicious. The pork is tender and flavorful plus it's pretty lean which is a plus for me. We haven't had exceptional tonkatsu since the pandemic broke out but now I can say that we just had the real deal. It's so good it's better than most tonkatsu places I've tried here in Metro Manila.
If you want to dine in, they have private rooms complete with safety features like acrylic barriers. We've seen the place — it's along Sgt. Esguerra near ABS-CBN. It's really nice… it's just that at the moment we're more comfortable having food delivered as opposed to eating out. You can check them out at https://www.fumizenph.com/.
Want to have your food delivered? You can order from Fumizen Japanese Restaurant via Grabfood or Foodpanda, or you can call 779-31894 for delivery. For a minimum order of P500 they offer free delivery to nearby locations.
Fumizen Japanese Restaurant
34 Sgt. Esguerra Ave.,
Bgy. South Triangle, Quezon City
779-31894
Like this post? Subscribe to this blog by clicking HERE.
Let's stay connected: