I was never really a foundation type of girl. That is until I tried Shiseido Synchro Skin Lasting Liquid Foundation. I've always perceived foundation to be thick and cakey. Memories of my mom and aunts' cake foundation come to mind. It was like wearing mask. But lo and behold, foundation has come a looooong way. With the technology available now, a lot of them are like second skin. Foundation has the power to make anyone look perfectly flawless and polished. I have learned appreciate that now.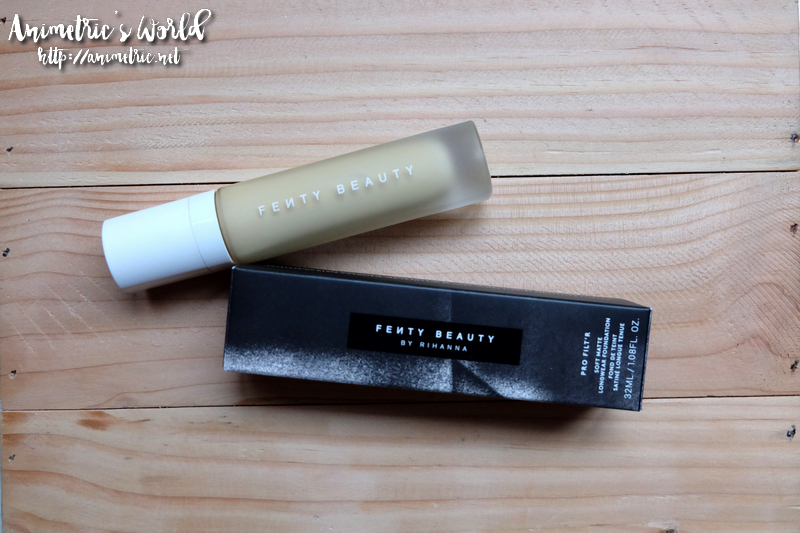 Now everyone knows pop superstar Rihanna recently released her own makeup line, Fenty Beauty. Fenty Beauty boasts of a whopping 40 shades of foundation, promising to cater to every skin tone. I was interested in the Fenty Beauty Pro Filt'r Soft Matte Longwear Foundation (US$34 / P1,950). The problem was, it's only available in Sephora so I had to buy it online. It was challenging because I had no samples to swatch. The Fenty Beauty online foundation finder was no help — it recommended that I get shade 100, which is their lightest shade. Isn't that Nicole Kidman levels of whiteness? Anyhow what I did was surf the web for photos and swatches. Finally I decided on getting shade 130, classified by Sephora US as for fair skin with warm yellow undertones. The model wearing it was Chinese, so I decided to get it. It wasn't cheap so it was a risk.
I had to order this from Sephora US because Sephora PH had run out of stock.
Promising. I'm pretty familiar with what works with my skin and at a glance I could tell this was my shade.
Yellow undertones neutralize my skin's redness.
Yup, I got the right shade.
For comparison's sake, here's Shiseido Synchro Skin Long Lasting Liquid Foundation in Golden 2 versus Fenty Beauty Pro Filt'r Soft Matte Longwear Foundation in 130. I always pat on a layer of white Shiseido Maquillage Snow Beauty Powder on top of Synchro Skin because it's a tad peachy. Now I'm wondering if I should get Golden 1 next time.
Okay so what I did was cleanse, tone, and apply Origins Original Skin Renewal Serum. The serum makes the skin matte so I figured it would be good to use underneath the foundation. Boy was I ever so wrong. Fenty Beauty Pro Filt'r Soft Matte Longwear Foundation is drying, so if you start off with a very dry matte face it will highlight lines and pores. Application will be patchy too. Like this. I couldn't blend it at all. I removed the foundation, washed my face, toned, and then came out with the big guns.
By big guns I mean Bioderma Hydrabio Serum for an intense shot of moisture. Then I topped it off with Banila Co. Classic Matte Primer. My face was super moisturized and smooth afterwards. Finally the foundation applied nicely and blended well.
So here's the result of my take 2. OMG, this is the most perfect foundation color I've ever worn. It's my EXACT skin match.
With proper preparation, meaning moisturizer and primer, the foundation was able to go on more smoothly. The finish is so matte that I forgot to use finishing powder.
Here's how it looks under natural light.
And here's how the foundation looks 7 hours after application, no retouch since I forgot all about powder.
What I like about Fenty Beauty Pro Filt'r Soft Matte Longwear Foundation:
The shade. OMG the shade is so perfect for me… the most perfect in fact.
It's cheaper than my Shiseido foundation which costs almost P3k. This one set me back P1,900+.
Coverage is buildable from medium to heavy.
It really lasts. It was pretty much intact after 7 hours with no retouch.
The finish is so matte you can actually do without powder.
It's photogenic. You look good in pics when you use this.
Downside? It's a bit thicker and harder to blend compared to Shiseido. You need some degree of makeup skills to use this properly. In fact, I had to have a do over before I was able to get it right. The results are worth it though. Also, it's only available online if you're in the Philippines so you can't swatch. You'll have to guess your shade like I did.
I'm really loving my Fenty Beauty Pro Filt'r Soft Matte Longwear Foundation. I think I'll check out some of the other Fenty Beauty products to try. 🙂
Fenty Beauty Pro Filt'r Soft Matte Longwear Foundation is available at Sephora Philippines for P1,950 a bottle.
Like this post? Subscribe to this blog by clicking HERE.
Let's stay connected: