TEMPUR introduced its new premium mattress line in the Philippines, TEMPUR Pro, via a one-of-a-kind event held at the Power Mac Center Spotlight in Circuit Makati last August 16, 2023. TEMPUR Pro mattresses of varying firmnesses were mounted on remote controlled TEMPUR adjustable bed bases and frames. Guests were asked to sit / lie back, relax, and enjoy what had been prepared for the afternoon.
I was impressed by the three-tier set-up of TEMPUR beds. Each guest had an assigned bed and each bed would be occupied by two (2) guests. They even included matching TEMPUR Symphony Pillows with Smartcool Technology. I'm pretty familiar with the brand because my husband and I have been using TEMPUR pillows since 2007. For over 15 years we have used the same pillows. In fact they are still very much alive, we just decided to upgrade to the new pillows earlier this year.
I found my assigned bed on the uppermost level. A basket of treats containing snacks, a TEMPUR fleece blanket, and other goodies was waiting for me. The TEMPUR Pro Plus Medium Firm Mattress was what I was going to be reclining on for the afternoon.
I used the remote control to adjust the bed's angle to my desired reclining position so I could watch the program comfortably. Power Mac Center Spotlight had really cool airconditioning, a most welcome respite from the sweltering heat outside.
These are by far the most luxurious beddings I've tried lounging on.
I put on the socks they provided so I wouldn't get the mattress dirty.
We were treated to an afternoon of performances from the improv group Spit Manila and the jazz band Extrapolation. Guests were encouraged to stay until the end of the program for a raffle draw. I'm so glad I did because I won the second prize — a TEMPUR Symphony Pillows with Smartcool Technology! I gave it to my son as soon as I got home since hubby and already had pillows exactly like this one.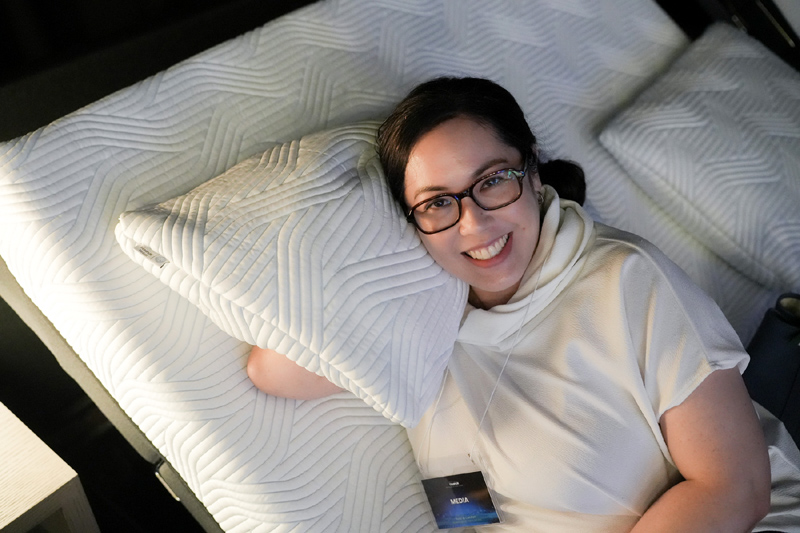 TEMPUR Pro is TEMPUR's most advanced and adaptive mattress range ever. Made with all-new TEMPUR Advanced Material, it relieves 20% more pressure across your body, absorbs more motion and adapts better than ever to every inch of you. It also features the Smartcool Technology which absorbs excess body heat for a cooler, more comfortable sleep. This line also has the MADE IN GREEN by OEKO-TEX® label. This ensures that every certified product is made with materials thoroughly tested to be free from harmful substances, and produced in environmentally friendly facilities under socially responsible working conditions. The brand is committed to making safer and more sustainable products, so we can all experience truly restful sleep.
TEMPUR products are available in the Philippines via the TEMPUR official online store at https://shop.ph.tempur.com/. TEMPUR also has official stores on Lazada and Shopee.
Here's a 30-second video of the event.
Like this post? Subscribe to this blog by clicking HERE.
Let's stay connected: