After reading a lot of great reviews online for Etude House Bubble Hair Coloring, I finally decided to go to SM Megamall and get myself one.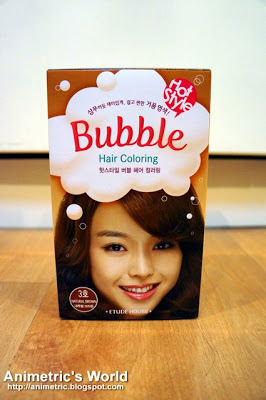 I got Etude House Bubble Hair Coloring in shade 3 Natural Brown. It costs only P378 per kit, which is dirt cheap when compared to the cost of going to the salon to have my hair colored. I bought it from the beauty section of SM Department Store in SM Megamall. There were only three shades to choose from: black, brown, and red.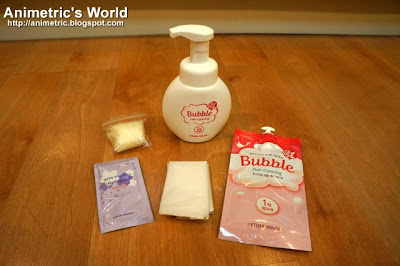 An Etude House Bubble Hair Coloring kit contains the following items:
Latex gloves
Plastic cape
Pump filled with clear liquid
Bubble Hair Coloring solution in foil
Silky Perfumed Treatment sachet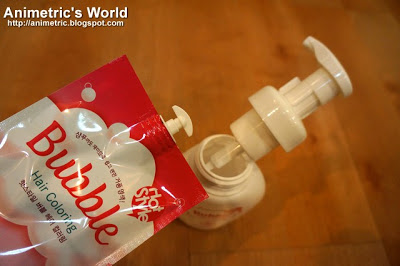 Oh, it comes with an instruction pamphlet too but it's entirely in Korean so it's pretty useless. Luckily I've had a fair amount of experience with DIY (Do-It-Yourself) hair color at home. So yeah, first step is to break off the plastic seal from the Bubble Hair Coloring foil. Pour the content into the pump.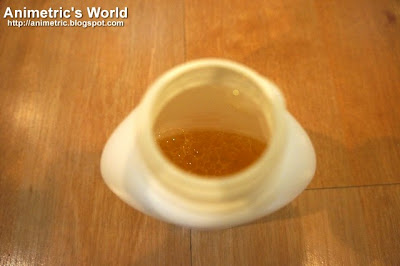 It should yield a clear golden liquid. Close the pump securely and swirl it around. Don't shake it vigorously, just swirl it around gently until the liquids mix together.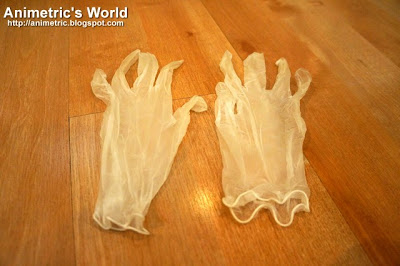 Get those gloves out and wear them.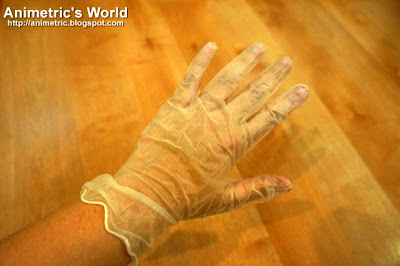 I actually like the gloves. They fit nicely and they're very thin so you can still grasp and hold things properly.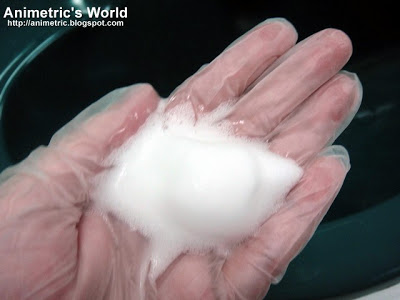 Push down the pump and dispense the foam. The Natural Brown variant yields a white foam that you cover your entire head of hair with. Take note that your hair must be dry when you do this.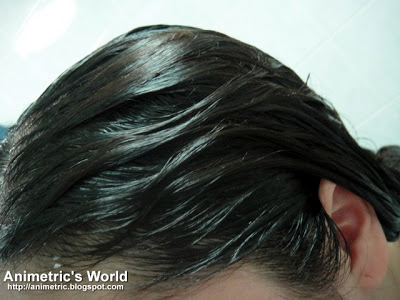 So it looks something like this. If you have long thick hair like mine, you will probably use up the entire bottle. It took me about half an hour to work the entire pump's content through my hair.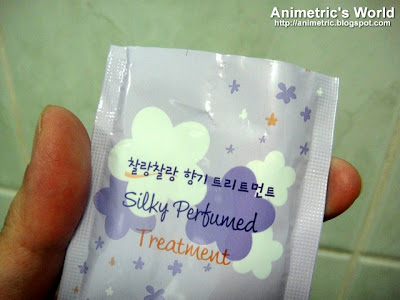 After you finish applying the foam, you let it stand for 30 minutes. By now your hair is sticky and icky. Take the Silky Perfumed Treatment and use it like a conditioner after you shampoo the coloring solution off your hair.
The Silky Perfumed Treatment is a miracle in a sachet I tell you. My hair felt instantly soft, smooth, and was totally tangle-free the moment I applied it. My hair was just as great after it completely hair dried. Smells so nice too.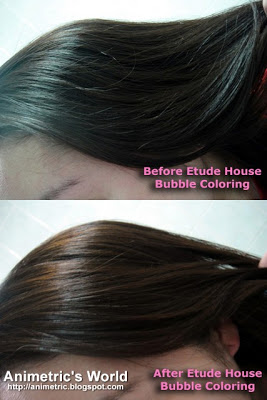 Anyhow, just from my bathroom's flourescent lighting alone you can already see the difference before and after I used Etude House Bubble Hair Coloring.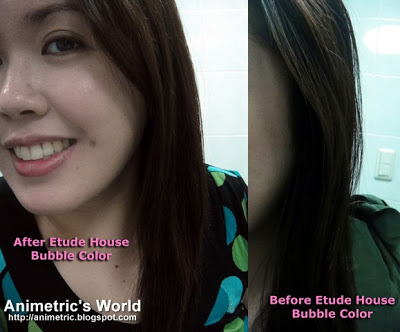 My hair lightened considerably just after a single use.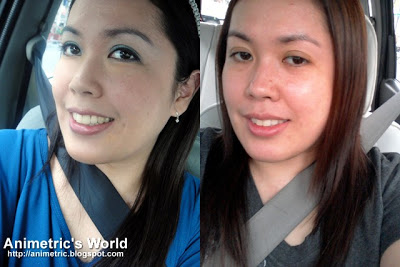 Both of the photos above were taken inside a car under the same afternoon light. The left photo was taken before use while the right photo was taken after use.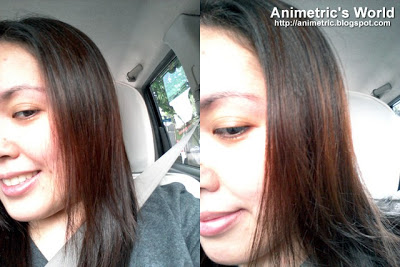 It's hard to believe that a P378 home coloring kit can make such a dramatic difference! Needless to say I love this product and I will buy again for my next coloring session. I might try red though. Another great thing about it is it doesn't stain your skin and clothes because the foam remains white (don't know about the other colors though).
But wait, this product also has a limitation:
It can't cover white strands. Since the foam just stays white, it doesn't darken or change the color of white strands at all. It just works to lighten dark hair. I was told that the red shade of Etude House Bubble Hair Coloring's foam can cover whites since the foam is purple instead of white. If you have a lot of visible white hair it may not give you the result you want.
You can check Etude House's store locations here – http://etudehouse.ph/slist.aspxLike this post? Subscribe to this blog by clicking HERE.Become a Facebook Fan for updates from Animetric's World.