So far I've bought deals from Plejee, Awesome.ph, and Beeconomic / Groupon Philippines and have shared my deal-shopping experience with each one. Deal Grocer would be the fourth deal-of-the-day site I've availed of a coupon from.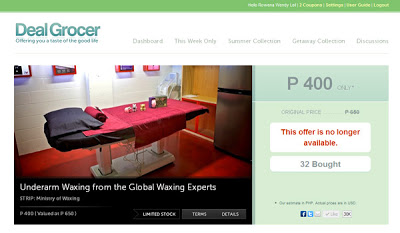 I saw this underarm waxing deal from Strip at Deal Grocer some time ago. Instead of the usual P650 price, I could avail of the service for only P450. Sounds good, keeping the underarm area hair-free is quite time-consuming. I tried using wax strips by myself and couldn't even get a single hair out. Tweezing takes forever, plus it gives me a stiff neck… hahaha! So yes, I decided this deal was for me. I liked the locations of the branches too — Serendra and Greenbelt.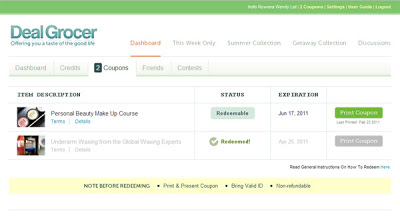 So I bought the deal. I clicked "Buy Now" and used Paypal to pay for it. Then it was done, just like that. Very quick, convenient, and painless ordering system. The coupon could immediately be viewed on my Deal Grocer dashboard too. You just click the "Print Coupon" button to print it out and voila… it's ready to use! All the pertinent details regarding redemption are on the coupon too, including all the branches and contact numbers you can avail from. Please note that prices are based on US dollars, so you will be charged the equivalent US dollar amount after conversion to pesos. The peso price you see on the site is a very close estimate though.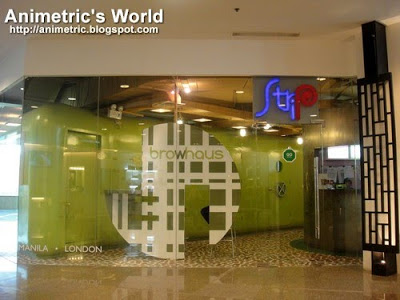 I chose to have my service at the Greenbelt branch. I made an appointment first, of course. I was a bit late but they still accommodated me. They simply asked for my coupon and then had me fill out a customer information form. After that I was good to go. I will review the actual strip waxing service in another post. 😀
All in all I was very happy with my Deal Grocer experience. The site is very cleanly designed and user-friendly so even online shopping newbies can purchase deals in a jiffy.

Like this post? Subscribe to this blog by clicking HERE.
Let's stay connected: