The long Christmas season is over and now it's time for another exciting period, one filled with making resolutions and drawing up goals as we look back to help ourselves recalibrate the future. It's that special time when we dust off the excesses of the festive holiday season and clean our plates for a fresh new start. And as new starts go, the best ones are those filled with health-giving goodness for better minds and hearts and more positive moods this year.
brand.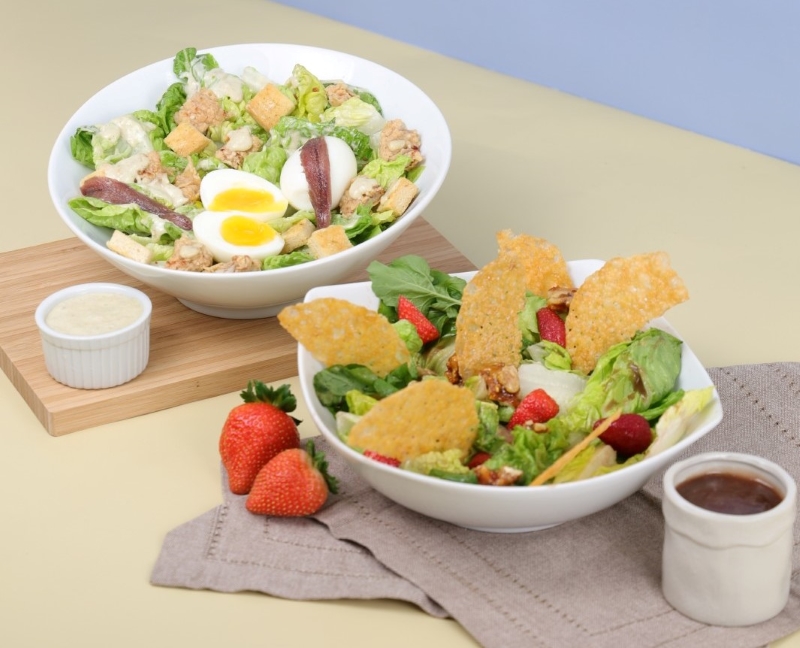 Conti's Bakeshop and Restaurant's new salads fit the bill perfectly. Light but filling, tasty but healthy, they're sure to help make new beginnings and fresh restart for this exciting time of the year.
The Signature Salad has all the classic goodness everyone loves in one bowl – fresh strawberry slices, candied walnuts, and crispy mixed greens tossed in Conti's' signature raspberry vinaigrette. The dish is topped with lacey parmesan crisps for added taste and texture. It's something special but light and fresh and nothing complicated. And it has something in common with Conti's' signature cakes: layers of complementing flavors. It's tangy, sweet,
and salty that gives a singular gastronomic delight.
For a bit more indulgence without the guilt, the new Homemade Caesar Salad serves up fresh greens with Southern-style chicken fillet, croutons, and Conti's zesty homemade signature Caesar dressing. The bowl is topped with soft-boiled egg and anchovy to taste.
The new Conti's salad bowls further expand the homegrown restaurant chain's menu, providing more healthy but delectable options alongside classic and popular food dishes and the brand's well-loved cakes. Designed to put the fresh in fresh starts and the new in new beginnings for 2023, the Signature Salad and Homemade Caesar's Salad are perfect for those seeking better health this year.
Available for dine-in in all Conti's branches nationwide. Also available via Grab and Foodpanda. To know more, send a message to Conti's Messenger, call 8580-8888, visit the website at www.contis.ph or check out the Conti's Facebook (@contisph),
Instagram (@contis_ph), and TikTok (@contisph) pages. Other pages bearing the Conti's name and images are fake. They do not in any way represent the brand.
Like this post? Subscribe to this blog by clicking HERE.
Let's stay connected: