I cook a lot of pasta for lunch and dinner using Contadina products. I promise I'll post about the Spanish Sardine Pasta recipe I came up with the other day. I just need to do it again so I can record the ingredients and measurements lol. However since it's the season of sweet treats, I thought I'd bake for my Contadina Holiday Recipe. My hubby doesn't eat butter. I've discovered that extra virgin olive oil is a good substitute for it.
So what did I bake today? Mini Olive Oil Cakes with Lemon Glaze, recipe courtesy of The Food Network. Of course I tweaked it a bit to my preferences. What I'm posting here is MY version because I don't like my cakes too sweet.
Mini Olive Oil Cakes with Lemon Glaze
Ingredients
For the Cakes:
1 tbsp Contadina Extra Virgin Olive Oil
1 cup all-purpose flour, plus more for dusting
1 cup coconut sugar
2 tbsp grated lemon zest (from 2 lemons)
2 large eggs
1/4 cup Contadina Extra Virgin Olive Oil (okay I put a little more than 1/4 because I like my cakes moist)
2/3 cup fresh whole milk
1/2 tsp baking powder
1/2 tsp salt
1 tsp finely minced fresh thyme, plus sprigs for garnish (I used dried thyme in a bottle)
For the Glaze:
3/4 cup confectioners' sugar
2 tbsp freshly squeezed lemon juice
1 tbsp unsalted butter, melted
Preheat to 350 degrees. Brush a 6 or 12 cup mini bundt or muffin pan with the olive oil. Lightly dust with flour and shake out the excess.
Pulse the granulated sugar and lemon zest in a blender until combined. Add the eggs one at a time, then gradually pour in the olive oil and milk, pulsing until a thin batter forms. This takes about 30 seconds only.
Whisk 1 cup flour, the baking powder, salt and 1 teaspoon thyme in a small bowl. Add to the blender in 2 batches, pulsing lightly until just combined; stop to scrape down the sides of the blender as needed. Pour the batter into the prepared pan. Bake until the cakes just begin to pull away from the sides of the pan and spring back when lightly touched, about 25 to 30 minutes. Cool in the pan for 10 minutes, then loosen the sides with a small knife and invert the cakes onto a rack.
Prepare the glaze by whisking the confectioners' sugar, lemon juice, and butter until smooth. Drizzle over the warm cakes and garnish with thyme sprigs.
Ever since I discovered lemon zest I've been addicted to it. It trumps lemon juice when it comes to infusing whatever it is you're making with lemon flavor. I just use a cheese grater to zest lemons. Don't overdo it because the white part of the lemon is bitter when grated.
Using a blender to mix your ingredients makes the batter thinner than normal.
See it's not chunky like normal batter.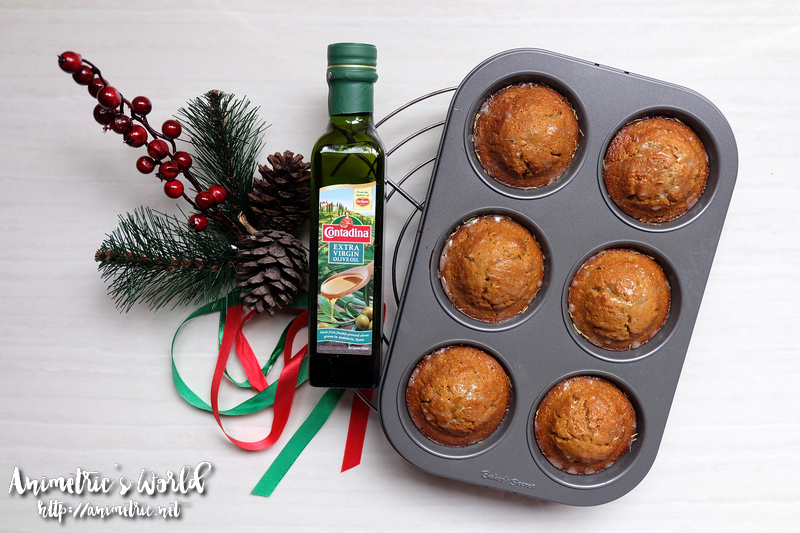 Tadaa! Here's the finished product. Since my cakes looked more like muffins, I didn't bother inverting them. I just drizzled glaze over them while they were still in the pan. The original recipe had 2x the ingredients for glaze. I ended up throwing maybe a cup full of glaze because there was just too much.
How would you like to try cooking or baking with Contadina? I'm giving away a basket full of Contadina goodies so you can start 2017 with a bang (in the kitchen lol). Just follow the easy peasy Rafflecopter mechanics to join.
a Rafflecopter giveaway
I will announce the winner on Jan. 1, 2017. This giveaway is open to Metro Manila residents only as you will need to pick up the prize from Makati City.
Congratulations Angel Ison Santos! You're the winner of a Contadina goodie basket! Will message you with regards to prize claim.
Contadina products are available at leading supermarkets nationwide. I get mine from Robinsons Supermarket because they have the complete line.
Like this post? Subscribe to this blog by clicking HERE.
Let's stay connected: