Whenever I go out, I'd like to make sure that I look at the very least presentable. I will never forget the day I ran into a long lost high school classmate in the supermarket. I was wearing something close to pambahay. I don't think I combed my hair and much less put on any makeup. I figured the supermarket is like 5 minutes from home so I should be okay. Anyway my classmate saw me, approached me, and talked to me. Waaaaaah good thing my breath was FRESH hahahaha! So anyway, more than clothes, hair, and makeup on fleek, one very important thing to make sure you have is fresh breath. I mean when you go out, it's inevitable that you'll interact with people. Fresh breath is what will give you the confidence to be all you can be.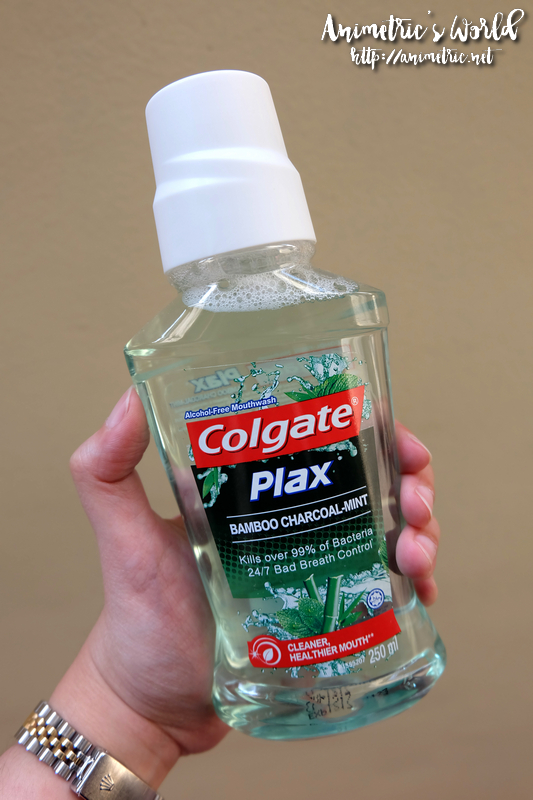 That said I'd like to share my latest discovery — Colgate Plax Bamboo Charcoal Mint! I love trying out uniquely flavored mouthwashes and Bamboo Charcoal Mint is definitely one for the books.
I got this bottle of Colgate Plax Bamboo Charcoal Mint in the mail. I was really excited to try it out! Fact: One of the things my hubby and I like buying abroad are out-of-this-world toothpaste and mouthwash variants. We actually bought chrysanthemum tea toothpaste from China! Our curiosity was piqued by the words Bamboo Charcoal.
After brushing my teeth, I took the Colgate Plax Bamboo Charcoal Mint cap and filled it to the line with mouthwash — that makes 20ml. A minty yet naturally fresh scent filled the air.
The flavor is pleasantly sweet and minty at the same time. I usually find it difficult not to rinse with water after using mouthwash (even if I know it's the right thing to do). Colgate Plax Bamboo Charcoal Mint tastes so nice I was able to kick the water rinsing habit altogether. Since it's alcohol-free, there was no stinging or burning sensation.
I love how fresh my breath was after rinsing with Colgate Plax Bamboo Charcoal Mint. The more amazing thing was how my mouth still felt fresh after I had eaten a couple of pizza slices with everything on them — onions, peppers, garlic… you name it! It's because Colgate Plax kills over 99% of bacteria for long lasting fresh breath. I'm definitely a lot more confident when I don't have to worry about my breath!
Colgate Plax Bamboo Charcoal Mint is available at all leading supermarkets, department stores, and drugstores nationwide. For more information, log on to http://www.colgate.ph. You can also find Colgate on Facebook or follow @ColgatePH on IG and Twitter.
Like this post? Subscribe to this blog by clicking HERE.
Let's stay connected: