Premiere shoe brand Cole Haan open its 7th Philippine store at Ayala Malls The 30th a couple of weeks ago. Cole Haan was my footwear of choice back in high school and college. I loved how comfy each pair was. You could walk and drive around in them all day long. I remember having to buy them either from the US or from stalls in Shoppesville and Virra Mall which sold imported shoes. These days, all I have to do is go to a mall and walk into one of their stores.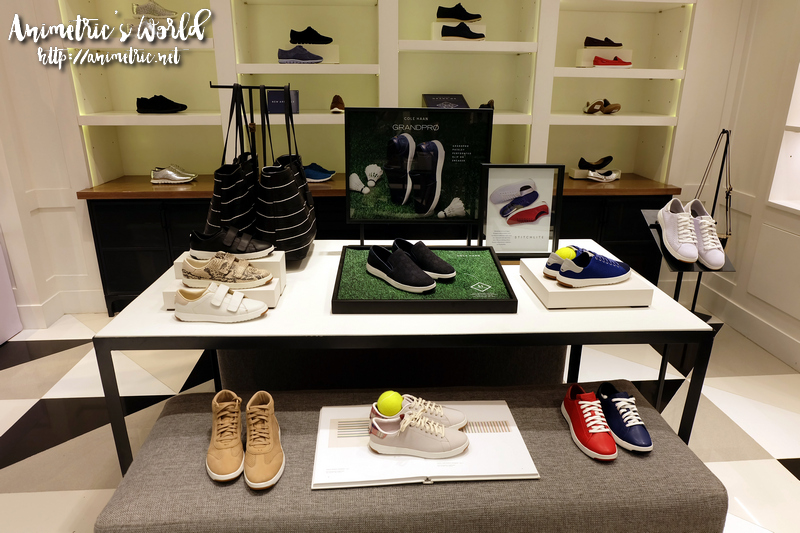 Cole Haan Philippines' newest store is located on the ground floor of Ayala Malls The 30th. You can find sporty, formal, and casual styles all under one roof. What you see here is the Cole Haan GrandPro series. They're made from ultra-lightweight materials. These are some of the lightest shoes you'll ever encounter.
These GrandPro Paisley Perforated Sneakers retail for P8,900.
OMG. I love these StudioGrand Knit Cross Strap Sneakers. They remind me of my Adidas Superstar Slip Ons, except that these are lighter and more comfortable to walk in. These cost around P10k a pair which is pretty close to the US SRP of US$180 (plus sales tax).
I was quite surprised by the sandals selection. These are the ZeroGrand Criss Cross Sandals. They retail for P9k each. I love the silver pair.
These ZeroGrand T-Strap Sandals retail for P8,900.
What do you know, Cole Haan has super flexible ballet flats now! These are the ZeroGrand Stagedoor Stud Ballet Flats. They retail for P7,900 per pair.
The models are wearing the ZeroGrand Wingtip Oxfords.
As always, these new releases from Cole Haan combine comfort, function, and style. Do drop by their newest boutique and experience them for yourself!
Cole Haan Philippines also has stores in Glorietta 4, Power Plant Mall, Shangri-la Plaza Mall, SM Mall of Asia, S'Maison at the Conrad, and Ayala Center Cebu. They will be opening 2 more stores at Festival Mall and Vertis North before this year ends.
For more information, log on to the Cole Haan Philippines Facebook Page.
Like this post? Subscribe to this blog by clicking HERE.
Let's stay connected: