Some time ago, we bought Deal Grocer vouchers for Chubby's Rib Shack along with some friends. We all went together to avail of the vouchers last 11/11/11 with mixed results. Chubby's Rib Shack also serves dishes from Buffalo Wings N' Things so you get two menus upon being seated.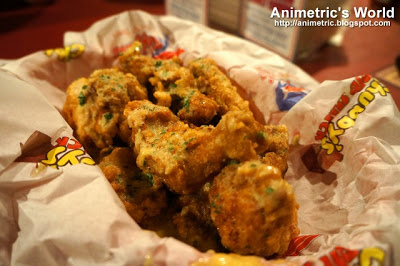 The food was definitely good. We had Garlic Parmesan Buffalo Wings (P264 for 1lb from Buffalo Wings N' Things, pictured above). The chicken wings were deep fried in rich garlic butter and covered with parmesan cheese + herbs. If you don't like spicy food, this is the perfect alternative to the usual buffalo wings.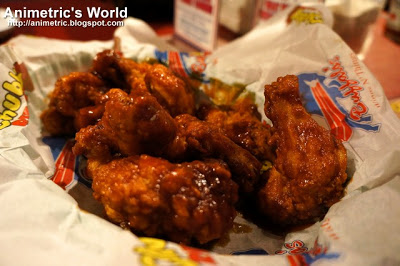 We also had another non-spicy chicken variant — Honey BBQ Buffalo Wings (P264 for 1lb, pictured above). Caramelized savory BBQ sauce coats the crunchy chicken wings. Yummy!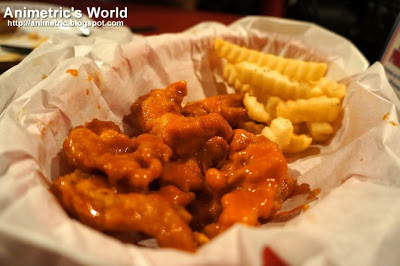 Hubby ordered Dirty Chicken Fingers with Fries (P134 + P29 for the Fries, pictured above). Boneless crispy fried chicken strips are tossed in Buffalo Wings N' Things' signature sauce (yep, the same spicy sauce they use for their "The Rookie" wings). Tasty and easy to eat, this would be nice for kids if they don't mind the mild spicy factor.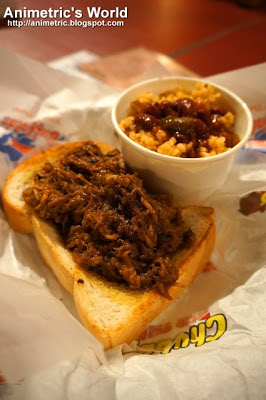 I ordered one of the Shack Specials, Pulled Pork on Texas Garlic Bread (P199, pictured above). All Shack Specials are served with Honky Tonk Rice and Southern Iced Tea so it's a pretty good deal. I loved the shredded sweet barbecued pork. The rice was interesting as it was topped with Mexican-style beans.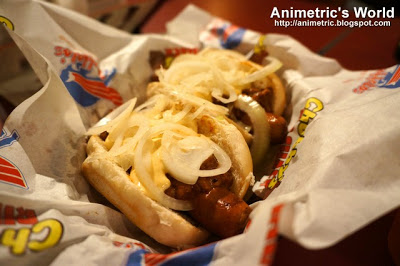 Hubby ordered Twin Chili N' Cheese Hot Dogs (P169, pictured above). Very reasonably priced don't you think? Each hot dog bun is filled to the brim with chili, cheese, and onions. I didn't like the hot dog's smoked taste though.
Then came the lousy part. Upon being seated my friends handed over their DG vouchers to the server, who collected them all. Come bill payment time, she told us we could only use one voucher for the entire group. The voucher states that you can use only one voucher for two people and that was what we were doing. After much discussion, she said "gagawan ng paraan" (literal English translation = "will make a way"). She went to compute the bill and it took her almost an hour to do so. We wanted to go already but no, we had to wait for such a long time. I wasn't feeling well that night and I was actually on antibiotics so it was really torturous for me.
If you're not ready to accommodate vouchers, don't offer them in the first place!

Chubby's Rib Shack
G/F Solaris One Bldg.,
Dela Rosa St., Legaspi Village, Makati City
552-1103

Like this post? Subscribe to this blog by clicking HERE.
Let's stay connected: