I can't believe it has already been a year since Thai makeup brand Cathy Doll found its way to our shores. I'm all for affordable and good quality makeup for everyone so this is really a welcome treat. I love that I've been seeing Cathy Doll at outlets like Watsons, Robinsons Department Store, SM Beauty, and even Zalora. It's so much easier to find and purchase Cathy Doll products these days.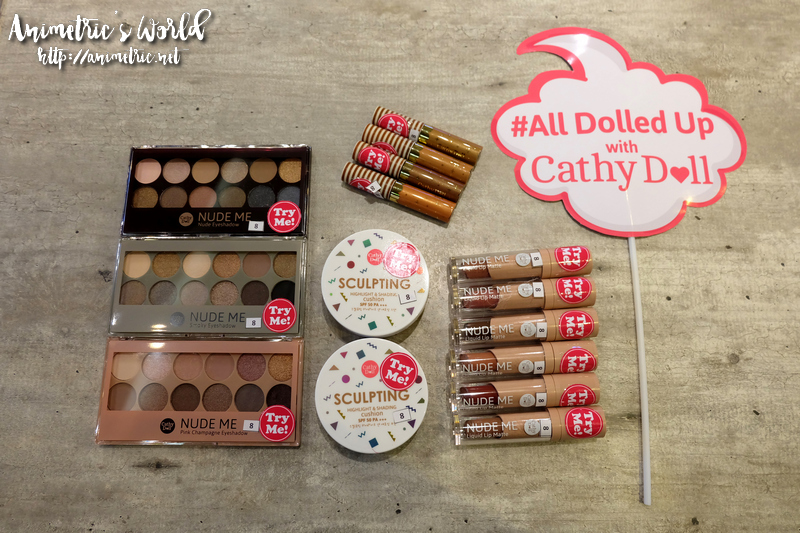 During the Cathy Doll anniversary celebration a few weeks ago, more new makeup products were launched. Let's check them out, shall we?
First we have the Cathy Doll Nude Me Eyeshadow Palette (P499). There are 3 kinds: #01 Nude (this one), #02 Smoky, and #03 Pink Champagne. Can't help but think that these are somehow inspired by the Urban Decay Naked Palettes.
I think my fave is #02 Pink Champagne. I'm partial to lighter colors when it comes to eye makeup.
This is #03 Smoky. Smoky eyes generally make one look older so… hahaha, not for me.
I'm most excited about the Cathy Doll Nude Me Liquid Lip Matte (P399).
There are a total of 9 shades, 6 of which were showcased during the event. I've been through Kylie and Colourpop, 2 of the most popular liquid matte lipsticks. I'd like to see how this one fares against those. I'm currently in the middle of reviewing these.
Here's something you don't see everyday — Cathy Doll Sculpting Highlight and Shading Cushion (P749). It's available in 2 shades: #01 Fair Skin and #02 Honey Skin. This handy product lets you contour and highlight at the same time.
Last but not least of the new makeup products is the Cathy Doll Eyebrow Cara (P199). It comes in 4 yummy shades: #02 Milk Chocolate, #03 Dark Chocolate, #04 Creamy Caramel, and #05 Hazelnut. This is probably the most affordable imported eyebrow mascara I've encountered so far.
Super excited to give all these a test run!
Like this post? Subscribe to this blog by clicking HERE.
Let's stay connected: