I got introduced to the wonderful world of By Nature Handmade Soaps when I won a gift pack from mymomfriday. I got three different variants of soap (Icy Choco, Dairy Bar, and Utter Bliss), all of which smelled absolutely yummy. Both my hubby and I enjoyed using them so much that when I was asked to host a blog giveaway, I immediately agreed.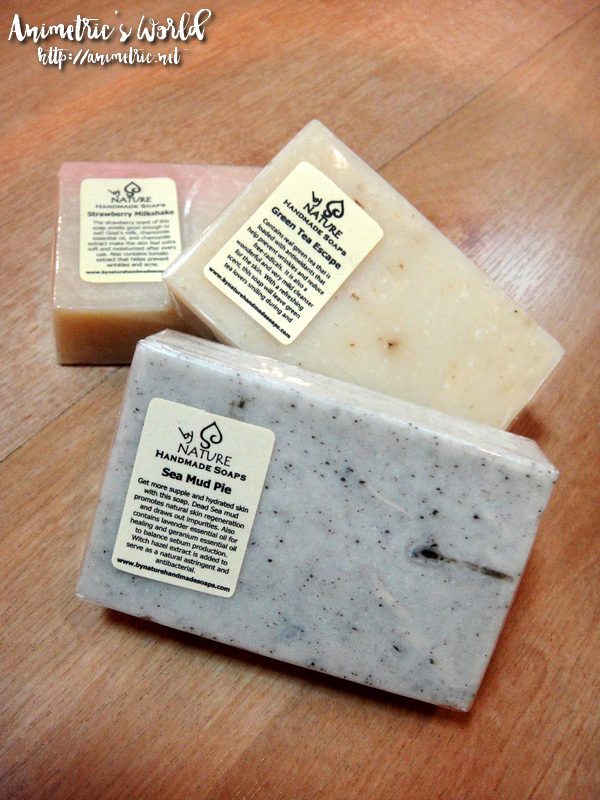 As a result, I got to try three more By Nature Handmade Soaps variants: Strawberry Milkshake, Green Tea Escape, and Sea Mud Pie.
Let me just say that these soap bars are big. I'm holding Strawberry Milkshake in the photo above. They are pretty solid and they don't melt easily.
So far Icy Choco is still one of my favorite variants.
By Nature Handmade Soaps are best placed on top of this wooden soap dish so that they last longer.
Icy Choco smells like chocolate mint. If I didn't know better I swear I'd take a bite because it smelled so delicious.
For something natural and free from harmful chemicals, you get quite a good amount of suds from these soaps. I actually look forward to bath time when I'm using By Nature Handmade Soaps.
What I like about By Nature Handmade Soaps:
Most of the variants make my bathroom smell like a spa — especially Icy Choco! It's so comforting to step into your shower enveloped by the refreshing scent of mint and the delicious aroma of chocolate… or whatever scent it is you picked out.
Each variant addresses specific concerns (acne, anti-aging, dryness, etc.).
They are made of natural ingredients and they're free from harmful chemicals.
They make your skin feel good. After bathing with these soaps you feel clean and moisturized at the same time. There's no over-drying, neither do you feel slippery and greasy.
They don't melt easily so they last a long time.
You can use them both on the face and body so it's a multi-purpose product.
The only downside is of course the price. At over P100 per bar, of course By Nature Handmade Soaps are more costly compared to commercial soaps you find in supermarkets. The long term health benefits make them worth the investment though. We're already exposed to way too many harmful chemicals and so if we can take away some from products we use on a daily basis, it would really make a difference.
Good news! By Nature Handmade Soaps & 100% Natural Products is giving one of my dear readers over P2,000 worth of products shown in the photo below…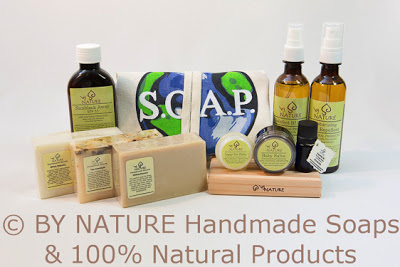 Yes, one of you will be taking home the following:
Regular Bar (winner's choice)
Special Bar (winner's choice)
Premium Bar (winner's choice)
Baby Salve
Disinfect It! Spray
Essential Oil (winner's choice)
Lippy Pot Balm
Moisturizing Insect Repellent
Sunblock Away
Wooden Soap Dish
S.O.A.P. Bag
All I can say is wow, I wish I could join my own contest… hahaha! I will be reviewing more By Nature products in the coming days but here's what you have to do for a chance to bag those goodies:
This contest is open to ALL Philippine residents. Prizes will be shipped to the winner. Previous winners in other blogs are disqualified from this giveaway in order to give chance to others. You have until Oct. 30, 2012 to join.
Congratulations Theresa Cruz-Escaros! I will get in touch with you with regards to prize shipping.
For more information on By Nature Handmade Soaps and 100% Natural Products, log on to http://bynaturehandmadesoaps.com/.
Like this post? Subscribe to this blog by clicking HERE.
Let's stay connected: