During the height of typhoon Pedring last September 27, my hubby and I found ourselves with a hundred errands to run which included dropping some things off at Dasmarinas Village in Makati City.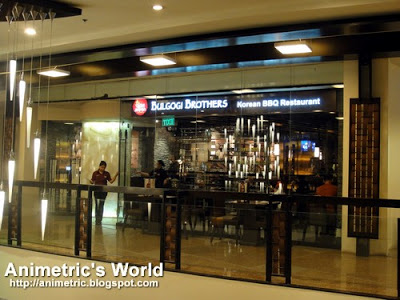 So yeah, we were in Makati come lunch time. What better way to spend a stormy day than to try out the newly opened Bulgogi Brothers Korean BBQ Restaurant at Greenbelt 5, right? It's their first branch outside Korea. 😀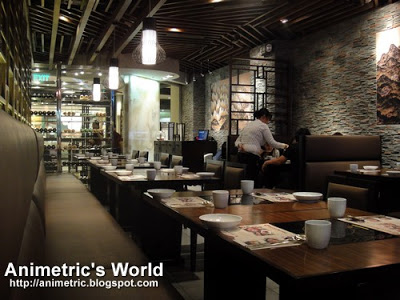 The place was packed when we got there. Luckily we found a table at the very end. I took this photo after lunch so most of the patrons were gone already.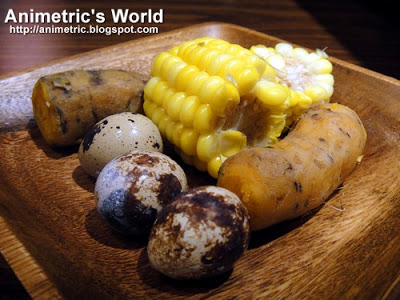 Our server brought us this wooden plate with boiled sweet potatoes (kamote), boiled quail eggs, and sweet corn on cobs. She said it was our "welcome food". The kamote was actually yummy.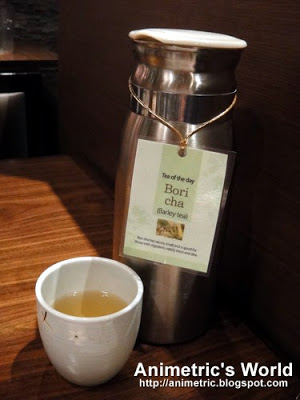 Then we were brought a steel flask of hot Bori Cha, a kind of tea that promotes digestion. You can opt to have it cold too. It tastes kind of like Mugi Cha (barley tea) which is usually served in Japanese restaurants.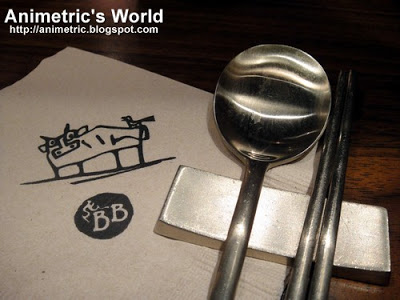 Check out the cute tableware!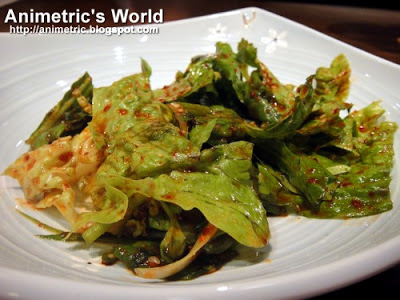 After the welcome food and the hot tea, the server brought out three Korean side dishes for the day. These are unlimited and are meant to be consumed along with your meal. The first one was Spinach Salad. The spicy dressing is similar to what is used in Kimchi.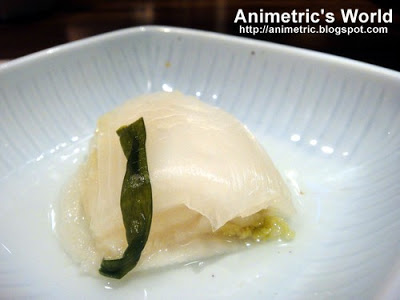 The next side dish was White Kimchi. Unlike the usual red-colored Kimchi, this one is not spicy at all.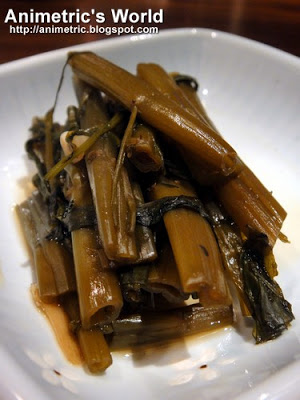 Our third side dish was Kangkong. I liked this one a lot because the kangkong is marinated in a mildly sweet soy sauce.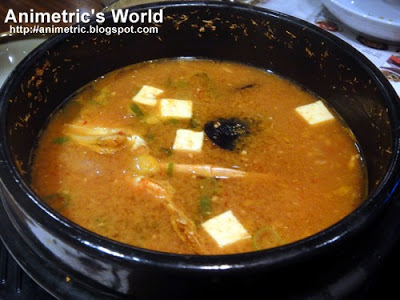 We ordered Haemul Doenjang-jjigae (P395, pictured above) which is a slightly spicy soybean stew with tofu cubes and assorted seafoods like crab, shrimp, and mussels. It was perfect for that blustery day. This is served with a bowl of steamed white Korean rice.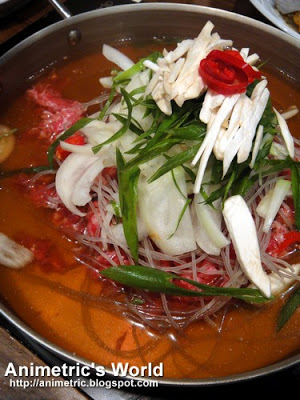 Then we had Seoul Style Bulgogi (P595, pictured above) which according to the menu is good for 2-3 people. We didn't believe it because it looked kind of small in the menu. But it was actually good for 2-3.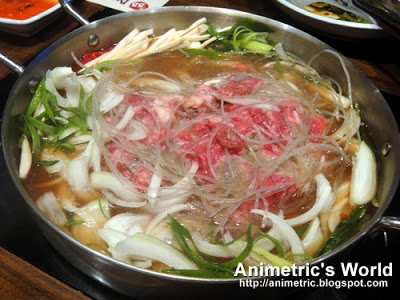 You mix the ingredients together and allow it to fully cook.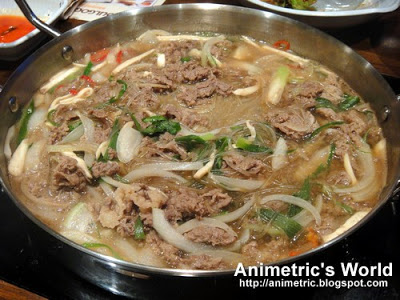 Tadaa! Sliced beef, veggies, and glass noodles in sweet broth made from fruit, onions, and soy sauce. Hubby liked this dish best. It was indeed delicious! It's served with a bowl of steamed Korean rice too.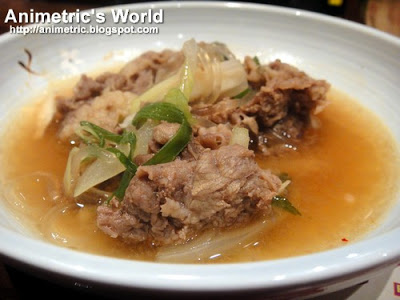 …and this is how it looks on my small plate.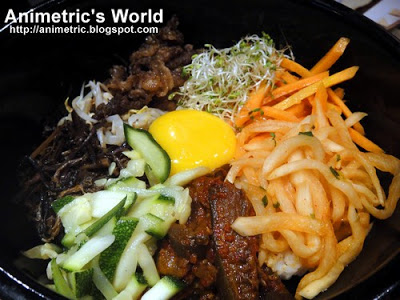 We also ordered Bulgogi Bibimbap (P395, pictured above) which is a traditional Korean favorite. Sliced beef and assorted vegetables top steamed rice inside a clay bowl.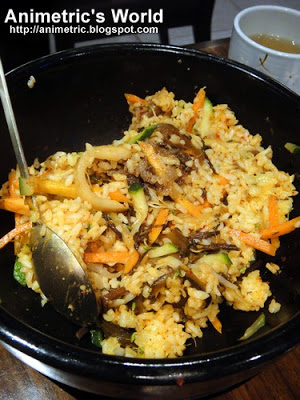 You mix everything together in the clay bowl. You can opt to mix in the small dish of chili sauce it's served with… or not.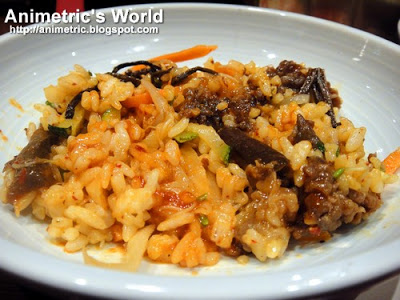 After mixing everything, you can finally enjoy the dish!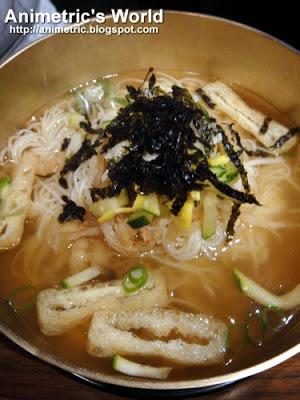 We had Janchi-guksu (P225, pictured above) as well, which is flour noodles in seafood broth in vegetables.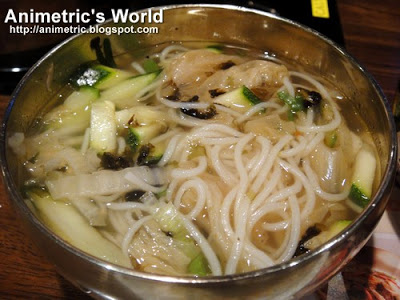 For the lack of a better description, it tastes refreshingly weird. That's refreshing + weird. Sort of like pickles and tofu in soup. The noodles are similar to misua.
With the excellent service (our server Micah is really the best!), delicious food, and generous serving portions at Bulgogi Brothers… I'm pretty sure we'll be back! 😀
Oh yeah, they don't have a dessert menu because they're not really big on desserts in Korea but they have started to offer ice cream.

Bulgogi Brothers
Level 3 Greenbelt 5
Ayala Center, Makati City
621-6216 / 621-5289

Like this post? Subscribe to this blog by clicking HERE.
Let's stay connected: