Your eyebrows can make or break the way you look. Notice how in movies and TV, "ugly" girls (think "Ugly Betty", "Blusang Itim" — Snooky version, "The Hottie and The Nottie", etc.) are usually portrayed with really, really unruly, thick, and bushy brows. I think this is because a good grooming will make for a more dramatic transformation during the finale. I'm no stranger to eyebrow grooming, specifically threading. I've had it done before both here in the Philippines (but I wasn't happy with the service so I didn't blog about it) and abroad. Then I met Browhaus Manila.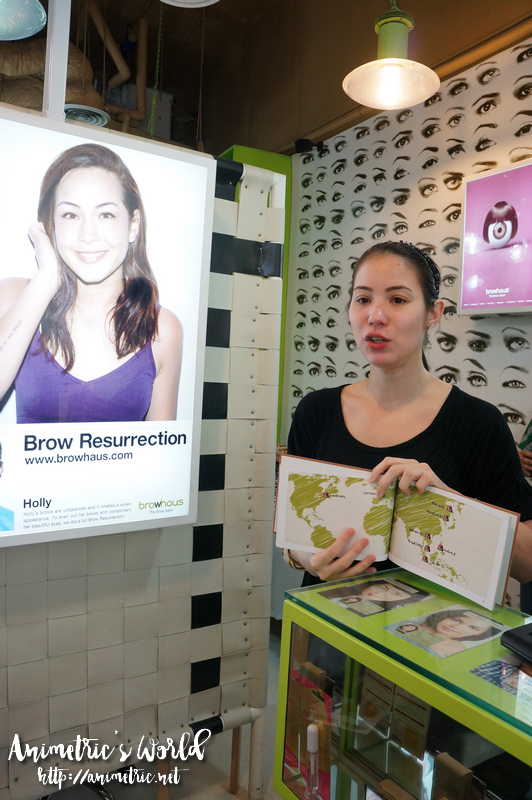 I was quite excited when I was invited for a get-together at Browhaus Manila in Serendra. I'm a big fan of their sister company Strip the Ministry of Waxing, so I was expecting the same high quality service from Browhaus Manila. The owner herself Tab Abad talked about Browhaus' signature service, Brow Resurrection.
I borrowed the above before and after photo from Inquirer Lifestyle since I am not qualified for Brow Resurrection. I have thick and dark eyebrows which are not really the kind you'd want to add more volume to. Brow Resurrection is for those with thin, sparse, short, or overplucked brows. Brow Resurrection is done by drawing using organic vegetable dye and superfine natural strokes. They use grids to scientifically determine your ideal shape. It's semi-permanent… so you do it once and then retouch ever so often. It lasts for a couple of years if maintained properly.
Anyhow we had some sweet treats after the eyebrow talk. 🙂
Then each of us was treated to a free Basic Brow Shaping service, Classic Threading (P580). Tara went before I did so I took photos of her.
Browhaus Manila uses a special kind of thread so it's surprisingly not painful. I remember getting my eyebrows threaded at another waxing salon and it was not a pleasant experience.
I was up next. I didn't think my eyebrows needed threading since I pluck stray hairs at home. But I was already there so I figured I might as well get them cleaned up.
I was surprised at how Browhaus' classic threading didn't sting nearly as much as the other places.
Aside from threading, the brow architect will also trim, brush, and tweeze. She will also apply Ice Cream, a soothing product, to the area around your brows to ease the swelling and reddening after the session. Classic Threading is a complete eyebrow shaping treatment in itself.
Wow, I was amazed by the results! I actually did a mobile upload of this photo on Facebook with a caption that said "Ang taray lang ng kilay ko kahit walang make-up after Browhaus!" and it got a tremendous response. My eyebrows have never looked neater and more polished. This is actually a lot better than my threading session in the US and that cost US$20!
After my Browhaus session, I've actually gotten a lot of compliments. A lot say something changed for the better but can't quite figure out what it is. Then I say it's the eyebrows, hahaha! My eyebrows look perfect even without make-up (I'm not wearing any make-up in the photo above)! I am definitely going back to Browhaus when my brows grow out. Just like how I will only get waxed at Strip, only Browhaus will touch my brows from this moment on. 😀
Browhaus Manila @ Serendra
2/F The Piazza at Serendra,
Fort Bonifacio Global City, Taguig City
901-0597
Browhaus Manila @ Greenbelt
4/F Greenbelt 5,
Ayala Center, Makati City
501-3998
Like this post? Subscribe to this blog by clicking HERE.
Let's stay connected: