While hubby and I usually go home for lunch from the office, every once in a while we go out. Today was one of those times and well, we went to Bonchon Robinsons Magnolia. We decided to try their new Bonchon Crunchy Garlic Chicken.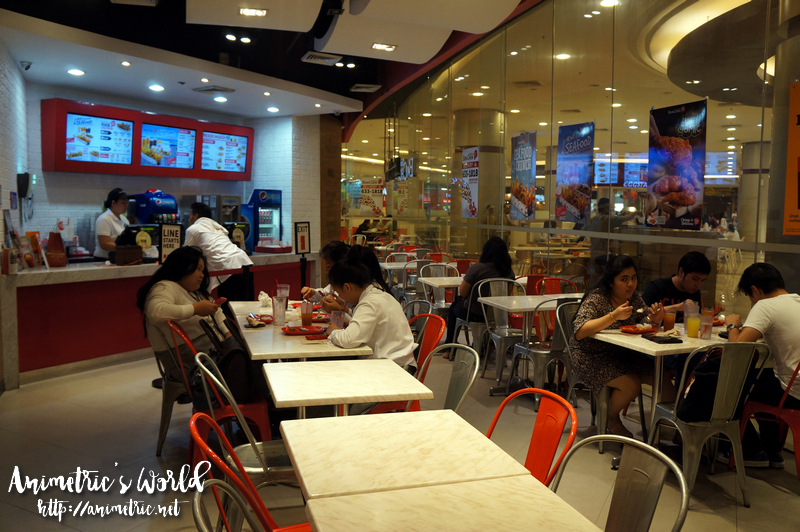 Bonchon Robinsons Magnolia is located at the basement level where the supermarket is. We were quite famished when we got there because it was almost 1pm.
We ordered Chapchae (P79). We love Bonchon's Chapchae. The noodles are very springy, chewy, and flavorful. It's actually a complete meal within itself since it has veggies and meat.

I ordered the Seoul Fried Rice (P45) to go with the chicken. Nice and tasty! It's certainly a lot different compared to Chinese or Japanese fried rice.
Then we got what we came for… the newest variant — Bonchon Crunchy Garlic Chicken (P195 for 3 pcs. Drumsticks)! I love garlic and Bonchon's trademark super crispy chicken is made even yummier with a generous sprinkling of crunchy garlic. Deliciously sweet and salty all at the same time.
Sweet Potato Fries (P60) is something I always order at Bonchon because I like it better than the one made with regular potatoes. It's sweet and savory at the same time plus it's soooo good when hot and freshly cooked because it's nice and crunchy.
Hubby opted for the Beef Bulgogi (P135) to go with the chicken. I used to order this all the time because I was afraid of the chicken (I'm not fond of chicken). But then I tried Bonchon's chicken and liked it plus this is a tad fatty for me so much I haven't had it in a while.
So now Bonchon has 4 flavors of chicken to choose from: Soy Garlic, Spicy, Honey Citrus, and Crunchy Garlic. I remember them starting with only 2 (Soy Garlic and Spicy) when they opened their first store at the Ayala Triangle Gardens. We've tried them all and hubby loves Honey Citrus, but I think I've found a favorite in Crunchy Garlic.
What's your favorite Bonchon chicken flavor? 🙂
Log on to http://www.bonchon.com.ph for a complete list of stores.
Like this post? Subscribe to this blog by clicking HERE.
Let's stay connected: