Welcome to my 31st BB Cream review, the first for 2016… featuring Biore UV Aqua BB Cream. I used to be super addicted to BB Cream. As in I kinda made it like my mission in life to try all the BB Creams out there. Thirty BB Creams later, I stopped trying to grab every single one I came across. Besides I had found my one true love when it came to BBs so I stopped buying (well also because my dresser was already overrun by unfinished tubes and compacts of BB). I think 2015 went by with only 2 BB Cream reviews, lol! I've pretty much eliminated most of the excess I had accumulated and so now I'm ready to take on some new ones again.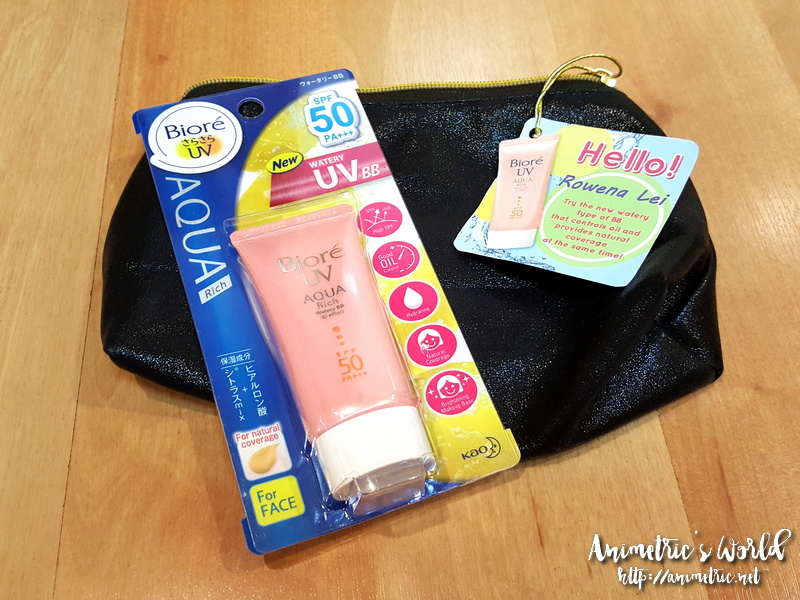 I recentlty tried out Biore UV Aqua BB Cream (P450). Biore is a brand I've known all my life. I remember washing my face with Kao Biore during my teenage years. Suddenly the brand disappeared off the face of this country. But I would still buy Biore products whenever I'd go abroad — Hong Kong, Japan, Singapore, Taiwan… you name it. Last year, I got wind of Biore's return to the Philippines. They sent over a few products for me to try and I'd like to start off with the Biore UV Aqua BB Cream.
Biore UV Aqua Rich Watery BB promises a lot of things:
Long-lasting high SPF sweatproof UV protection
Weightless texture with BB coverage
3D Brightening effect
Hydrating oil control
There's only one shade available for Biore UV Rich Watery BB Cream.
I like the shade — it matches my skin nicely. It's got more of a yellow undertone so it's pretty perfect for Asians.
So this is how it looks like when applied, under natural light.
This is how it looked like some 8 hours later when I got home past 9pm.
What I like about Biore UV Aqua Rich Water BB:
For a high SPF (it's SPF 50 PA+++) product, the texture is still lightweight and sheer. Usually the higher the SPF, the thicker and more opaque the product becomes. This one looks natural. That said you can use this as your daily facial sunscreen.
It's reasonably priced at P450 per 33g tube.
The finish is just right — your face glows but doesn't look oily and there is a decent level of oil control. I didn't powder up or blot in that 8-hour later photo above and I think I still look okay.
It's fragrance-free so it won't clash (at least scent-wise) with your other facial products.
It contains no mineral oil which can clog pores.
Downside? There's only one shade and it's on the light side. Coverage is also on the light side so you'll still need concealer for darker spots or blemishes you want to cover.
Biore UV Aqua BB Cream is available at P450 per tube at Landmark, Cash & Carry, PCX, SM Makati, and most Watsons stores nationwide. Log on to the Biore Philippines Facebook Page for more information and a complete list of outlets.
Like this post? Subscribe to this blog by clicking HERE.
Let's stay connected: