I'm normally way ahead of myself when it comes to online shopping. But I was late when it came to Althea. I don't know. I think it's because I thought I had enough Korean beauty products to last me a lifetime. But one time a Laneige product I was trying to buy here was not available, I checked Althea. The rest as they say is history. I got so addicted to shopping at Althea and I discovered a lot of brands I didn't know existed! I immediately checked their limited edition boxes.
An Althea Box is kind of like a BDJ Box. It contains several full-sized products being sold at a fraction of their original price. So if you buy an Althea Box, you pay a little over P1k but you get anywhere from P4k to P6k worth of products. I was so dismayed when I saw that most of the Althea Boxes were already sold out. Luckily, one box I really liked, Beauty Routine From Head To Toe, was still available. I ordered it right away.
My Althea Box arrived in about 4-5 days. I paid P1,487 and got P4,902 worth of products. I've never been this excited over a beauty box!
I got Mise-en-scene Perfect Serum Shampoo 140ml and Perfect Serum Treatment 180ml. These products promise to repair damaged hair with 7x Oil. I've used these in tandem more than 3x already and I'm amazed at how behaved my hair is every time. At first I disliked the scent but it grew on me. It actually gets better after your hair dries. Plus the soft and smooth hair I get afterwards is worth it.
I love hair products so I was thrilled when I got another one. This is Nature Republic Olive Hair Pack 200ml. It's described as a cooling hair pack. They're not kidding. This is used like a treatment after you shampoo and wow, the peppermint makes your head feel like it's full of ice. I love it! What a treat during hot sweaty days. It nourishes both your hair and scalp so your entire head feels great after you shower. My hair was smooth afterwards too. If you buy this solo off Althea it costs P440, which is already 1/3 the cost of this box.
This is the only makeup product in the box — Clio Pro Eye Palette Quad in 01 Amber Slip. I haven't tried this yet. But if what I've seen on the poster is to be believed, using this will result in Koreanovela-looking eye makeup.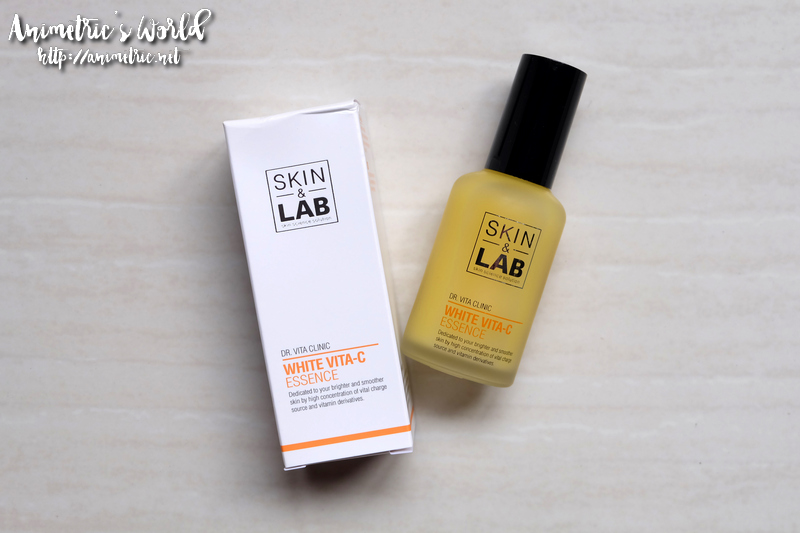 This is the beauty find of the year. I would buy this box over and over again just to get Skin & Lab White Vita-C Essence 50ml. I've heard a lot of good things about Vitamin C where skincare is concerned. I wanted to really see if it works so I reduced my night time skincare regimen to just facial wash, toner, and this.
After a little over a week, I noticed my skin was a lot smoother, clearer, and brighter than before. The telltale tiny bumps on my forehead and sides of my nose disappeared. I'm just so amazed with Skin & Lab White Vita-C Essence. It's non-sticky, non-greasy, and it smells like fresh lemons too. It's my favorite skincare product right now. Definitely one of the best serums I've used. I apply it before I go to sleep every night. Other sites sell one bottle for around P900.
I also got The Choute Hot Body Salt Scrub 180ml.
It's a salt scrub with pepper extract and caffeine which helps minimize cellulite. It feels warm when you rub it onto your skin. According to the product description it smooths and firms skin all over the body.
Last but not least are the W Lab Change Foot Peeling Pack and Angel Factory Underarm Perfume Peeling Pads. I'm assuming the foot pack is similar to Baby Foot which I reviewed earlier this year. I'm super curious about the underarm thingy. It supposedly sloughs off dead skin, moisturizes, and whitens your armpits in 3 easy steps lol.
I'm really super happy with this Althea Box. I actually checked out all the boxes they had in stock and thought this was the best one. I highly recommend getting it while it's available.
I have a 20% off voucher you can use HERE — maximum discount is P200, so you can make the most of it if you order P1,200+ worth of items. Voucher is not applicable to Althea Boxes though as they are already very cheap.
Like this post? Subscribe to this blog by clicking HERE.
Let's stay connected: