I remember being able to buy Baskin Robbins ice cream at Shangrila Mall when I was younger. I don't know what happened, but the Baskin Robbins scooping station just disappeared one day. More than two decades later, it pops up at Central Square in Bonifacio Global City!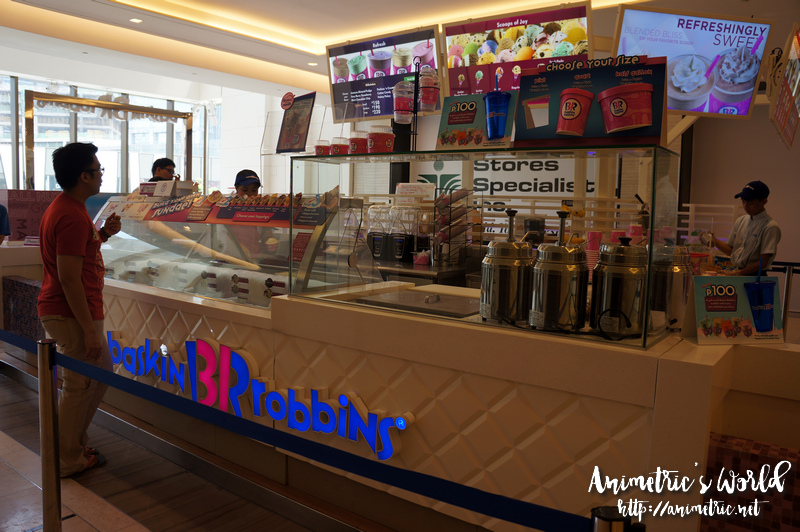 After lunch yesterday, we drove to BGC to try the newly opened Baskin Robbins stall. I was apprehensive because I had seen a lot of pics of the long lines. I don't like lining up, lol. Lucky for us there was actually no line when we got there.
The ice cream is pricey, that's for sure. A pint costs P325, a quart is pegged at P595, and a half gallon is priced at P1,150. There are 32 flavors to choose from.
Anyway, we all decided to get single servings. Daughter and I got a regular single scoop that were P119 each, while hubby and son decided to go for small milkshakes priced at P150 each. If you can't decide what flavor you want to order, you can get a free taste.
Daughter ended up ordering a scoop of World Class Chocolate. It's described as a mix of white chocolate and milk chocolate mousse. I thought it tasted like Cadbury Dairy Milk — as in, a super cold, creamy, and rich ice cream version of Cadbury Dairy Milk.
I ordered Chocolate Chip Cookie Dough, the same thing I have always ordered when Baskin Robbins was in Shangrila Mall during the 1990s. I keep telling my kids to try different flavors but I somehow keep going back to this, lol. This one is vanilla ice cream with chocolate chips and chunks of cookie dough. The ice cream tastes really milky and creamy, you can tell they spared no expense making it. It's soooo good. I haven't had Baskin Robbins in years because we somehow always end up getting Ben and Jerry's here and abroad.
Hubby and son each got a Mint Chocolate Chip Milkshake.
It's quite small for a drink that costs P150. I think the P119 regular single scoop is more worth it.
There are tables and chairs at the back of the scooping station so you can sit down and eat what you ordered.
We were able to get a table thank goodness. See how big the regular single scoop is? That said, I can't wait for Baskin Robbins to open more branches — hopefully somewhere closer to us and soon!
Baskin Robbins
Upper Ground Floor
Central Square, Bonifacio Global City, Taguig City
Like this post? Subscribe to this blog by clicking HERE.
Let's stay connected: