We made a pit stop at Bag of Beans Coffee Shop, Restaurant, and Bakery in Tagaytay City on our way back to Manila from Punta Fuego last Sunday. It was our friends' birthday treat!
Bag of Beans is a quaint place which seems small from the outside. Inside though, it's actually like a garden maze complete with lots of foliage, caged birds, and dining areas where you can sit down, lounge, and order food.
We stayed in a covered dining area since it was drizzling a bit.
I ordered Hot Chocolate (P105). It was divine! It had a deep, rich taste and I could feel bits of crushed chocolate as I sipped. My daughter loved it too. 🙂
My daughter chose Funny Face (P120) from the Kid's Menu. It's a large buttermilk pancake with a face drawn using whipped cream, chocolate syrup, and maraschino cherries. It was delicious, I could tell the pancake was homemade using a unique recipe and not prepared with a mix.
My son had a Strawberry Milk Shake (P145). It tasted of strawberry ice cream, milk, strawberry syrup, and whipped cream.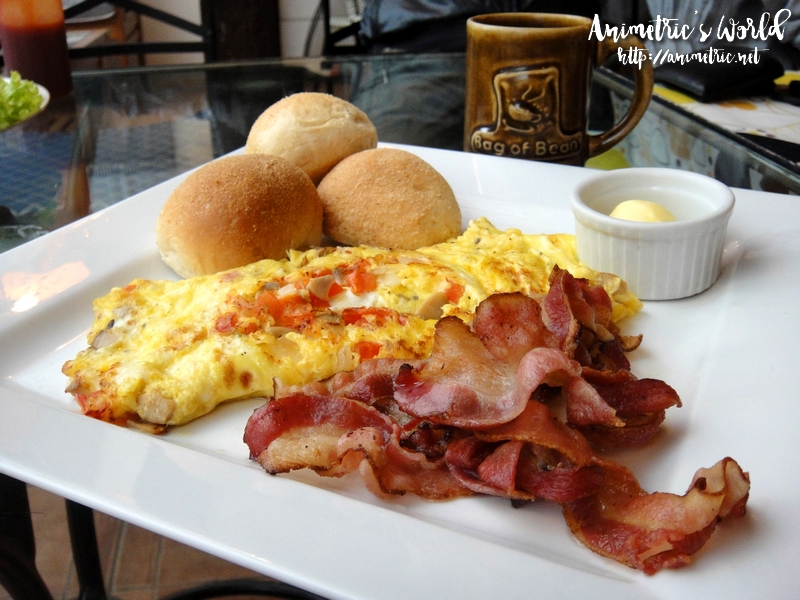 I decided to have the Omelette (P275) which was what the waitress suggested. I was shocked at how big the dish was! It's a three egg omelette with lots of cheese, mushroom, tomatoes, and onions. It's served with several bacon strips and three mini pan de sals on the side. Nice and filling, I couldn't finish it all by myself and shared some with my hubby.
My son opted for Cheese Omelette (P160) from the kid's menu. It's a full meal with two buttermilk pancakes and fresh orange slices.
Hubby had Garlic Shrimps with Rice and Steamed Veggies (P350). He was not too impressed.
All in all, we had a nice early dinner at Bag of Beans. I guess it's worth trying… do try to make a quick stop if you find yourself in Tagaytay. Their Hot Chocolate is a must-try.
Bag of Beans Coffee Shop, Restaurant, and Bakery
General Emilio Aguinaldo Highway,
Mendez Crossing West, Tagaytay City
(046)413-2723
Like this post? Subscribe to this blog by clicking HERE.
Let's stay connected: