Last January, I got a BDJ Box which contained a full-sized tube of Avon Anew White CC Cream (P699). I was sort of scared to try it out having been traumatized by their BB Cream. But then I thought I'd give Avon another chance, Anew is their high-end line after all.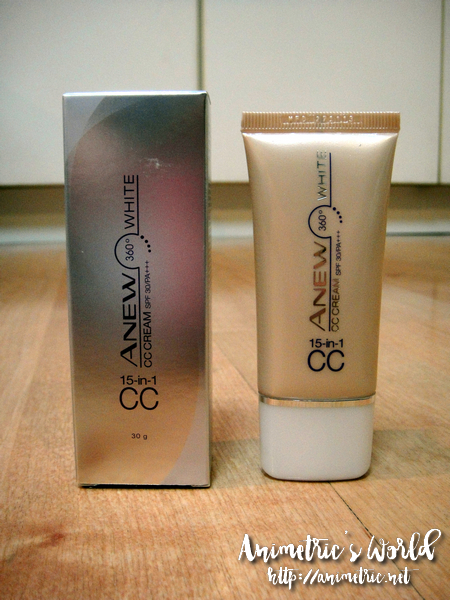 Presenting Avon Anew White CC Cream, my 5th CC review.
It comes in the usual tube which is good since it's more hygienic this way. You only dispense what you need, period. No need to touch and possible contaminate everything else.
It's flesh-toned as opposed to other CCs which start out white.
I blended it onto my hand and it disappeared pretty quickly.
So anyway, here's a before and after application photo. I like the brightening effect.
Here's a photo by my window, under natural light. Bright and white, I think.
So here's a photo comparing freshly applied Avon Anew White CC Cream on the left and 8 hours after on the right.
What I like about Avon Anew White CC Cream:
It definitely brightens and makes my face look whiter without really changing its color (my face still matches my neck).
Unlike the Avon Skin Goodness BB Cream, I didn't have the uncontrollable urge to wash it all off midday.
It has a light consistency which blends easily onto the skin.
It has more coverage compared to the BB.
It has SPF 30 so you don't need a separate sunscreen.
It looks and feels more matte compared to the other CCs I've used. Of course, after 8 hours, there was already a bit of a shine but not so bad.
Downside? Like most CCs, there isn't really too much coverage. This particular CC is good for brightening and instant whitening but if you have blemishes that need covering it won't be enough. Another thing that bothers me is the feeling when I apply it. I don't know if it's psychological because of my experience with Avon's BB but my face feels like it's protesting when I use this — there's just a weird feeling which I'm not comfortable with. I don't have that feeling with Tonymoly and Holika Holika, the 2 Korean CC brands I've tried. Would I repurchase? Honestly no.
Avon Anew White CC Cream is available for P699. Log on to http://www.avon.com.ph for buying information.
Like this post? Subscribe to this blog by clicking HERE.
Let's stay connected: