Hubby, the kids, and I went to visit the newly opened Applebees Grill and Bar in Eastwood City some weeks back. That is, back when I wasn't cooking yet and we were always ordering or eating out.
I liked the cozy, cheery, and brightly lit interiors. We were there to check out Applebees' new menu offerings.
We started out with the Fiesta Chopped Chicken Salad (P325). This salad is comprised of chopped lettuce, black bean corn salsa, roasted bell peppers and onions, tortilla chips, white cheddar, and chopped chicken with chimichurri glaze. It's surprisingly light and refreshing. We all liked it.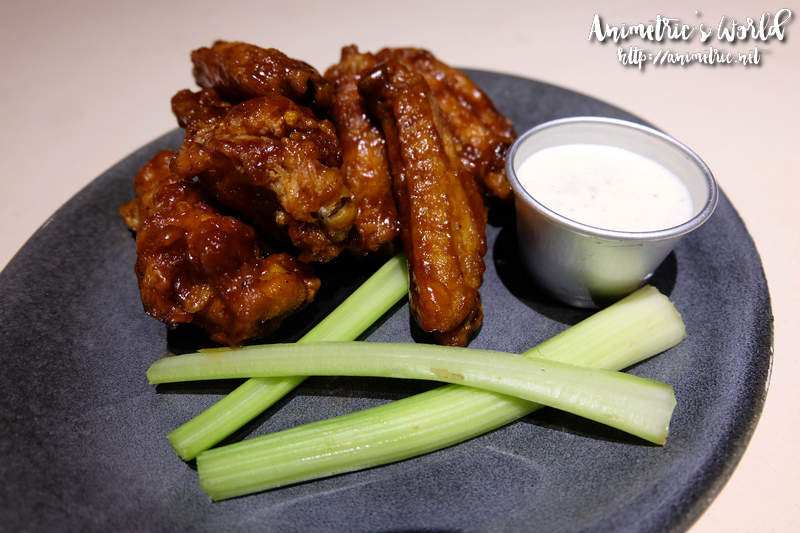 It was followed by Double Crunch Bone-In Wings (P395). For the chicken wings, you have a choice among Honey BBQ, Classic Buffalo, Sweet and Spicy, or Korean BBQ sauces. It's served with celery sticks and bleu cheese dip. Applebees isn't a wings place but wow, I liked their wings better than most wings places' lol. Really good flavor, not at all cloying.
I had a Strawberry Banana Colada (P195) to wash it all down. It does taste like strawberries, bananas, and pineapple juice all blended together. It's lighter than the usual smoothie which makes it more refreshing.
The kids tried Blueberry Cheesecake Shake (P195) and Cookie Milkshake Monster (P125). My son commented that the cheesecake shake was really really good and it tasted like they blended actual blueberry cheesecake in it. Cookie Milkshake Monster is basically cookies and cream shake with a dollop of cake frosting on top. My daughter found it a tad too sweet.
Next up was Wonton Taco (P225). Crispy wonton shells are filled with chicken, coleslaw, and cilantro. Again, very refreshing… especially if you squeeze the lime wedge all over it.
Our unanimous favorite dish of the night was 4-Cheese Mac & Cheese with Honey Pepper Chicken Tenders (P385). The twisty macaroni pasta called cavatappi is incredibly chewy and springy. We couldn't stop munching on spoonful after spoonful. The cheese sauce is subtle and not at all cloying. The crispy honey pepper chicken goes so well with it! So so so soooo good. Order it especially if you have kids in tow!
We tried the Quesadilla Burger (P525) too. Love the juicy and tasty beef patty topped with melted cheese and the usual taco ingredients. They all come together in a soft tortilla shell.
Our other favorite dish was the Savory Cedar Salmon (P650) which is amazingly under 600 calories. Yes it's from the um… "diet" portion of the menu but wow, it sure doesn't taste like it. The fish is tender and tasty. The creamy artichoke on top of it is just incredibly citrusy and flavorful. We all loved this dish.
When it was time for dessert, we could only manage to try one because we were already so stuffed. I opted for the Black Forest (P295). It's a mug full of vanilla ice cream, brownie chunks, and Grand Marnier cherries. Topped with whipped cream and a cherry, it even has a ring of dark chocolate and pecans on the mug's rim. YUM! I loved how all the flavors just come together. Best eaten alongside a nice piping hot cup of coffee, lol! OMG, my mom would probably like this as she has loved Black Forest Cake for as long as I can remember.
Everything we had was good, but my top picks would be the 4-Cheese Mac & Cheese with Honey Pepper Chicken Tenders and Savory Cedar Salmon.
Do drop by this lovely new Applebees branch in Eastwood City if you're in the vicinity. Although most of the place looks like a family style restaurant, they do have a separate bar area if you just want to chill with a nice cocktail.
Applebees Grill and Bar
Eastwood Citywalk 1, Libis,
Bagumbayan, Quezon City
Like this post? Subscribe to this blog by clicking HERE.
Let's stay connected: