Since I booked our Jetstar tickets to Tokyo kinda late, my hotel of choice Hotel Villa Fontaine was already full. I had to look for another hotel. I needed one that wasn't too expensive since there were 4 of us. Checking Agoda led me to APA Hotel Hatchobori Eki Minami. I found a 22 sqm Non-Smoking Adjoining Room for 4 people which cost P11,500 per night. The average hotel twin room in Japan is around 5-6k per night so it was about right.
There are a lot of APA Hotels in Japan. It's one of the more popular budget hotel chains. We picked APA Hotel Hatchobori Eki Minami because it was the branch with available accommodations for 4 during the dates we wanted. The lobby is quite modest. As soon as you enter the main door, the elevator and the reception desk are there. We arrived at 9:30am. Check-in time is 3pm. We presented our Agoda voucher and left our baggage so we could go sightseeing.
We got back around 6pm and was finally able to check in. Turns out they don't really have adjoining rooms, we were just given 2 double rooms (11 sqm each) that were beside each other. It's really small, as soon as you enter the desk and the bed are in your face lol. Fitting 2 big suitcases in this room can be challenging but it's doable.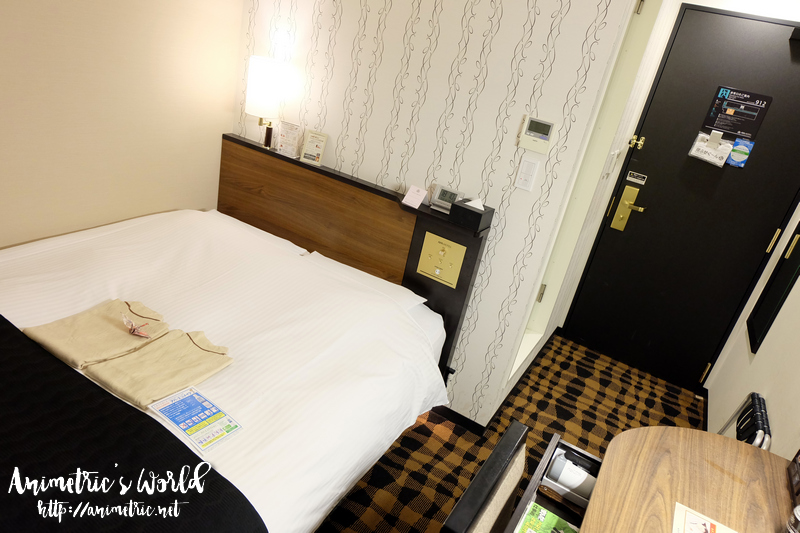 It was a pretty tight squeeze. We didn't mind because the room was clean and complete with amenities. The bed was comfortable albeit the pillows were too flat. It was easy to get used to though and we enjoyed a good night's sleep every night.
There's a TV, telephone, refrigerator, electric air pot, hair dryer, plus cups with free coffee and tea.
There's no closet but they have hooks and hangers on the wall. Slippers are provided too.
This is the bathroom. The toilet, sink, bath tub, and shower are all crammed in a super tiny space. It's typical of most Japanese hotels. If you're too tall or too big it might be challenging to use the bathroom. We didn't have problems though. The bathroom sink dispenses drinking water so you don't need to stock up on bottled water.
The bathroom is also complete in terms of amenities. You're provided with cotton buds, ponytail holder, hairbrush, shower cap, toothbrush w/ toothpaste, shaver, bath sponge… and these get replenished daily. There's also Shiseido shampoo, conditioner, and body wash.
Every night they lay out 2 robes on the bed with an origami crane perched on them.
What I liked about APA Hotel Hatchobori Eki Minami:
It's near the Hatchobori Station. You can take the train to anywhere in Japan from this station. Hatchobori Station also has an elevator that leads to the surface so it's convenient for trips to and from the airport. I remember staying at a hotel near a station with no elevator. I thought I was gonna die lugging my suitcase up steep flights of stairs.
There are restaurants and convenience stores in the vicinity.
The rooms are comfortable, clean, and complete in terms of amenities.
The rates are reasonable.
Staff are generally courteous and helpful. They speak English too.
Downside? This is the smallest hotel room I've stayed at in Japan. There's also zero action in our neighborhood, unlike places like Akihabara, Shibuya, or Ginza. There's practically nothing to do in Hatchobori so we had to commute daily to find stuff to do and places to go.
We'd be happy to stay in an APA Hotel again, provided it's in a more lively area lol.
APA Hotel Hatchobori Eki Minami
1-14-7 Shintomi, Chuo 104-0041,
Tokyo Prefecture, Japan
+81 3-6280-0111
Like this post? Subscribe to this blog by clicking HERE.
Let's stay connected: