My brother-in-law arranged a surprise party for my younger sister Roanne about a week ago at Aomori Cafe Greenhills. It was a combination birthday and baby shower party.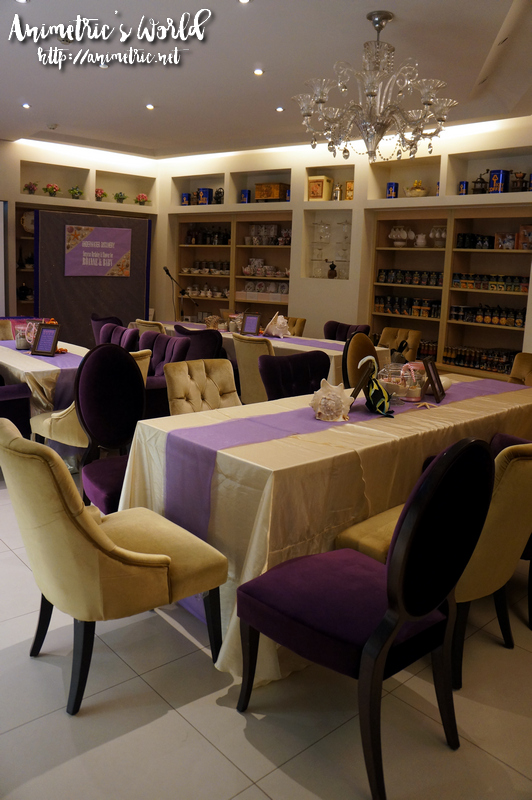 Aomori Cafe Greenhills is located at Northeast Square along Connecticut Street. He told us via text that the theme was under the sea and the colors of the night were pink and purple even if they were actually expecting a baby boy. I was an early bird, I was there first I think so I took the opportunity to take photos of the place undisturbed. The owner was there and I asked here if it's a usual thing for the entire place to be rented for private occasions and she said yes.
My brother-in-law went all out as the owner of Aomori Cafe Greenhills said he even hired a party planner to take care of decorations and stuff.
He texted me that my assigned table was Starfish Lagoon. I was to be seated with our cousins. The other tables would seat her high school friends, church friends, and in-laws.
Wow, I was told all these desserts were for the party!
Check out the cute sea-themed ornaments.
Dinner was mostly buffet-style, with appetizers and soup served on the table. The buffet's main attraction was the Turkey with Chestnut Stuffing, Gravy, and Cranberry Sauce. I liked it but I didn't taste the chestnut stuffing, lol! It must've been stuffed really deep into the turkey.
We also had Carbonara with Grilled Chicken, kind of DIY since it was up to you to get noodles, sauce, and toppings for it.
There was also Beer-Battered Fish Fillet (but I just got the veggies and not the fish, there were beer-battered eggplant slices mixed in with the fish).
Another carb-alternative to pasta was Parmesan Potato Wedges.
Oh but I liked the Whole Wheat and Cranberry Bread best. It was served warm and with a matching siding of cranberry butter. They bake their own bread if I'm not mistaken and they do it so well.
Another totally divine creation is their Mushroom Cappuccino Soup which was also served on our tables in cute dainty cups and saucers. Creamy but not cloying, it's made from scratch so you can taste the pureed fresh mushrooms with every sip.
This is what my plate looked like. I only went around the buffet area once. Must leave room for those luscious-looking desserts after all.
We were all excited about the birthday cake, Flourless Chocolate Cake with Strawberries. You know what a great combination strawberries dipped in chocolate are? This is kinda what it's like. After my sister blew out the candles the cake was sliced and served to all the guests!
I also got a Chocolate Cupcake, Carrot Cupcake, and Blueberry Macaron. I didn't like the Chocolate Cupcake which I found dry but the Carrot Cupcake was good.
The Blueberry Macaron was the best! I would've had maybe 4-5 if I weren't so scared of diabetes and gaining weight. So I had just one. It was crisp outside and soft inside. The blueberry filling was both creamy and sublime.
Advanced Happy Birthday to my sister, and a big thank you to my brother-in-law for a wonderful party! Aside from the abundant food we had fun games with prizes too!
Here's my one and only cute niece!
Here with our cousins from Manila and Australia!
I don't have the prices of the food because I thought it would be rude to ask for them during the party but you can inquire by calling Aomori Cafe Greenhills at 724-1952.
Aomori Cafe Greenhills is a nice cozy place that's a good venue for small intimate gatherings like this one. Food is generally okay, not blow-your-mind-special but satisfactory with some standouts, and it's housed in a complex with a basement parking area so it's quite convenient. Service is quite good.
Aomori Cafe
L/G Northeast Square,
Connecticut St., Greenhills, San Juan City
724-1952
Like this post? Subscribe to this blog by clicking HERE.
Let's stay connected: