Each time the new year rolls in, we come up with a new set of resolutions we hope to follow for the rest of the year. These resolutions cover everything from losing weight to getting more sleep to eating healthier. They're all about becoming better. While it's not easy to keep all these resolutions, the most important ones pertaining to one's health should always be top priority. We need to keep ourselves healthy especially as we're in the middle of a pandemic. A recent study conducted by Movement Today showed many Filipinos have become less physically active since the start of the pandemic which made them experience back, muscle, and joint pains, and feel more tired and lethargic. The lack of movement has posed a greater risk on one's physical and mental health, and overall well-being.
With health being of utmost importance, best to keep resolutions simple, attainable, and sustainable. Engaging in physical activity like going for short walks or doing easy 15-20 min exercises to keep the blood flowing and having a more nutritious diet that gives the proper nutrients for our bones, joints, muscles and the rest of the body to mention a few.
Anlene, one of the adult milk pioneers in the Philippines, has been advocating the importance of caring for bones, joints, and muscles to enable movement at any age. Anlene recently introduced the new Anlene Gold 5X which helps in maintaining strong bones, joints, and muscles with added benefits on energy and flexibility. This helps improve overall mobility. It has the highest calcium content among other milk brands which provides 100% of your daily calcium needs in 2 glasses. It's also high in protein with 9g per serving, has collagen and Vit C, with B vitamins, and with a new breakthrough ingredient MFGM Activ among many other nutrients.
MFGM Activ is a revolutionary ingredient present only in Anlene Gold 5X and has been proven to help enhance physical performance of our bones, joints, and muscles when coupled with exercise. This innovative formulation has been tested and shown to increase muscle mass by 40%, improve bone mineral content and flexibility by 2x, making it the perfect beverage to support bone, muscle and joint health, and recovery.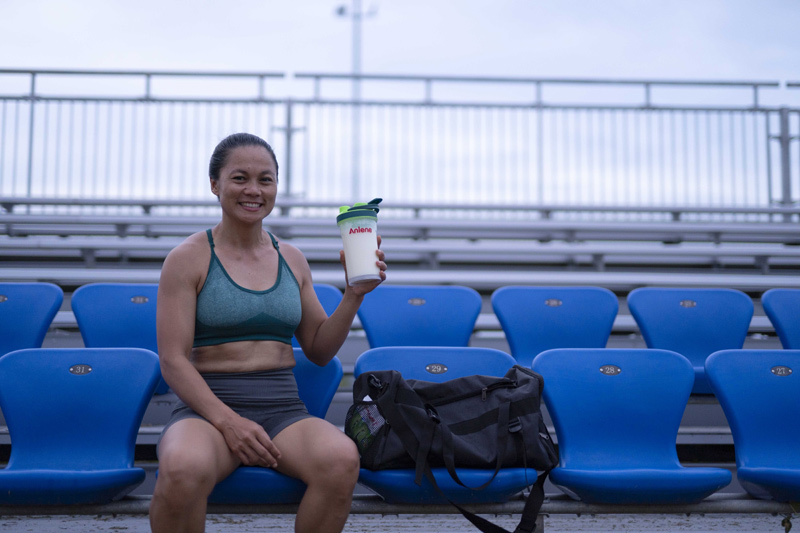 The oldest member of the Philippine National Team, Veteran Long Jump Olympian, 4x SEA Games Gold Medalist, and Philippine/SEA Games Long Jump Record Holder Marestella Sunang attests to this. She has been an Anlene drinker for years. Now in her 40s, she is still able to compete with younger athletes. "I started drinking Anlene from the very start of my athletic career. It has always been with me in training every day. Over the years, I have really gotten into the habit of drinking it and it has been a solid part of my routine because it helps with my flexibility," she explained. "As I grow older and continue to compete, I find I need it even more now, and I'm so thankful I was introduced to it early on in my career as it has played such an important role in my journey." she said.
Our bones, joints, and muscles are some of the most important pillars that help us to live a happy and healthy life. It's never too late to start taking care of it, especially in a time when our health needs to be top priority. All it takes is to move for around 15-20 minutes a day, eat the right food, and drink milk so we can all feel healthy, better, and stronger for the rest of the year.
Join Anlene's advocacy of everyday movement partnered with proper nutrition for healthy ageing in 2022.
Anlene Gold 5x is available at the Fonterra Official Stores on Lazada and Shopee.
Like this post? Subscribe to this blog by clicking HERE.
Let's stay connected: