I recently posted an explanation and apology regarding the Fanny Serrano prize packs that five (5) winners won in my anniversary contest last February. Since I was at a loss at what to do I posted an inquiry their Facebook Fan Page which promptly got deleted along with the whole page. Anyhow, the contact person sent me a message today — to my utter surprise. I honestly was not expecting to hear from him again.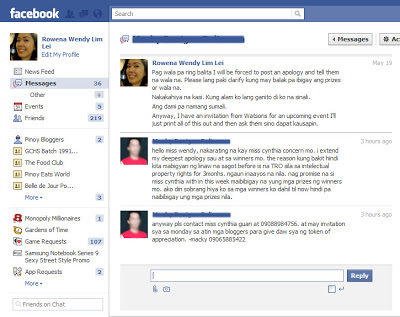 I have a new contact person and she has promised that the prizes will be distributed to the winners in a week's time. I sincerely hope that this issue will be resolved soonest.
I would like to thank the contest winners for being so understanding and forgiving given the situation. I would also like to thank all of my dear readers for the unwavering support and faith. I just wish that I didn't have to blog about it first just so action would be taken…
Thank you everyone! I'm hopeful that the contest winners will finally get the prizes that they've won. 😀

Like this post? Subscribe to this blog by clicking HERE.
Let's stay connected: