It happened. I finally caved and bought a whole bunch of stuff from Althea Philippines. I've known about this online store for quite a while now. They tapped a lot bloggers I know to promote their store when they first went online. Naturally, all their Althea posts appeared on my feed lol. I use a lot of Korean beauty products but I try my best to support the Philippine distributors if their prices are reasonable. That said I usually buy my faves from Laneige, Leaders, Tonymoly, and Etude House from here.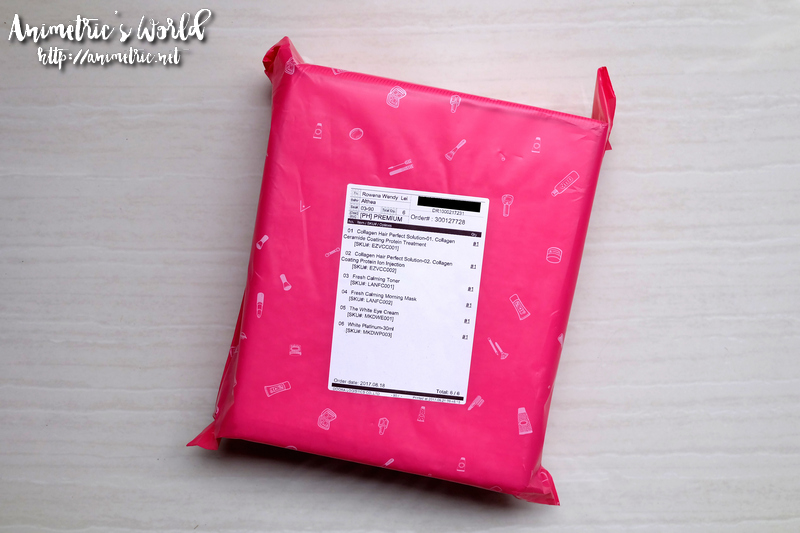 But there are certain Korean brands and products that are not available in the Philippines. For example, Laneige's Fresh Calming line. I went to the nearest Laneige store and checked. They don't carry it. My skin was acting up and I believed I needed Laneige Fresh Calming products to soothe it. But since I was already shopping, I decided to check out their sale items as well. My items arrived 4-5 days after I made my order.
Wow, I'm super impressed the box is in PERFECT condition. No dents!
Here's my haul! Aside from Laneige Fresh Calming Toner and Morning Mask, I ordered some Milky Dress and Elizavecca products.
Formulated with lychee extract and sea water, Laneige's Fresh Calming line soothes the skin and restores balance with moisture. They actually recommend this line for 20-somethings with oily skin. I figured since the humidity makes me oil up, I will be okay with it. I got the Laneige Fresh Calming Toner (P1,270 for 250ml) and Laneige Fresh Calming Morning Mask (P1,100). I wanted the serum too but Althea Philippines didn't have it.
I spotted these in the sale section and bought 'em:
Elizavecca Collagen Hair Perfect Solution 1: Collagen Ceramide Protein Coating Treatment (P290)
Elizavecca Collagen Hair Perfect Solution 2: Collagen Coating Protein Ion Injection (P300)
Milky Dress Platinum Whitening Cream (P340 for 30ml)
Milky Dress The White Eye Cream (P420)
The Elizavecca Collagen Hair Perfect Solution is a 2-step intensive collagen treatment for damaged hair. The 1st product is a rinse-off conditioner while the 2nd product is a leave-in treatment. It's not really an injection wahaha, so don't panic. I loooove the packaging. I'll probably post reviews of the stuff I bought soon.
Milky Dress is a popular whitening brand which has gotten rave reviews online. It supposedly whitens skin instantly. I bought the cream out of curiosity but I plan to try the eye cream to see if it can lighten my dark undereye circles.
My total bill came out to P3,720 and I paid via Paypal. The good news is, shipping is free for orders over P999. You can pay via Paypal, credit card, and recently also via COD.
I'm really happy with my Althea Philippines online shopping experience! Have you tried it? If you haven't yet, I have a 20% off voucher you can use HERE — maximum discount is P200, so you can make the most of it if you order P1,200+ worth of items.
Like this post? Subscribe to this blog by clicking HERE.
Let's stay connected: