Althea, my favorite Korean online beauty source, has been very busy the past year. They've been rolling out skincare products one after another. They've even released a fragrance in collaboration with popular Indonesian actress and singer Titi Kamal. So it comes as no surprise that they now have their own makeup line too.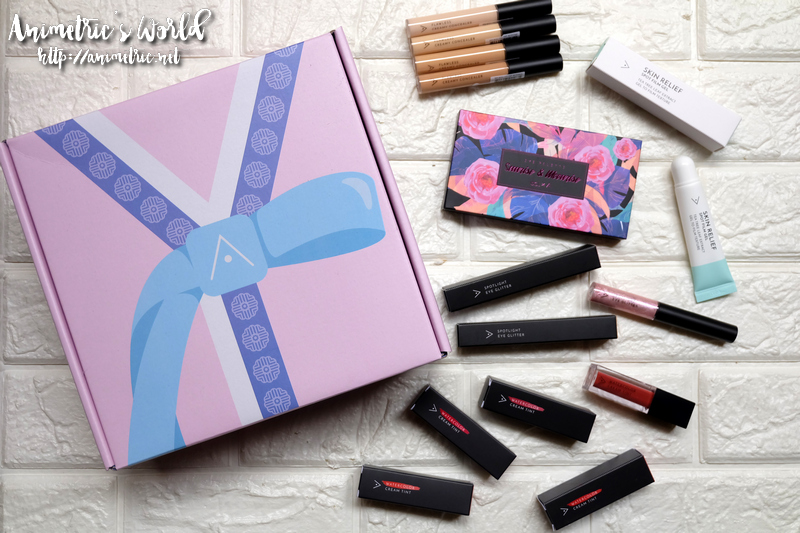 I got all the Althea Makeup products a while back and I've come up with a quick and easy Althea Makeup Tutorial.
But first, a bit of an introduction. This is the Althea Flawless Creamy Concealer (₱200 each). You can cover blemishes, undereye circles, and whatever else needs covering with this product's buildable formula. There are 4 shades: #01 Vanilla, #02 Ginger, #03 Honey, and #04 Mocha.
This is the Althea Spotlight Eye Glitter (₱300 each). It's a liquid eye makeup product which can be used as an eyeliner and/or eye shadow.
Here are swatches of the concealers and eye glitters. I think my shade is #02 Ginger.
This is the Althea Watercolor Cream Tint (P260). It combines the pigmentation of lipstick, the moisturizing capabilities of gloss, and the staying power of stain.
Here are swatches of the 4 shades. You can actually achieve a variety of finishes with this lip product.
Last but not least in the Althea Makeup line (for now anyway) is the Althea Eye Palette Sunrise & Moonrise BCL x Althea (P1,780). This is another collab product. Althea's partner for this is Bunga Citra Lestari, an Indonesian pop singer and actress. She actually reminds me a bit of our very own Sarah Geronimo in some angles (although I find Sarah prettier). It's an 8-shade eye shadow palette that has everything — shimmers, mattes, and glitters.
I've come up with a simple makeup tutorial to help you get started with the Althea Makeup line. 🙂
The first step is always skincare. Make sure you cleanse, tone, and moisturize. Then pat on some BB to serve as your makeup base. I often use a BB cushion for daily wear, switching only to a more heavy duty foundation for special occasions like weddings. After your BB / foundation is in place, it's time to use concealer. I dotted my underye area with Althea Flawless Creamy Concealer in #02 Ginger and then blended with a concealer brush (or your finger). After blending, I pat more BB onto the area to even out the color. You can also do this for the sides of your nose.
After the base and the concealer are done, I do the eyebrows next. I just take an eyebrow pencil with an angled tip and fill in sparse areas. I use concealer to "clean up" the area around the brows to make them more defined. The technique is to brush and then blend, then pat with BB to even out the color.
I'm doing everyday daytime makeup so I'm only using pink and cream shades from the Althea Eye Palette Sunrise & Moonrise BCL x Althea.
First thing I did was brush the beige shade marked #1 onto the entire lid. Then I brushed on the shimmery white shade also marked #1 under the brow bone.
Then I brush on the deep pink shade marked #2 onto the crease and blend. I top it with the shimmery pink shade marked #3 and blend.
I use the Althea Spotlight Eye Glitter and apply it onto the lid close to the upper lashline. After it's completely dry, I apply black liquid eyeliner and black mascara. I also use a white eyeliner to line the inner lower lashline.
This is the finished eye makeup look. I just smile and swipe on some pink blush across the cheeks and use Althea Watercolor Cream Tint in #04 Marron Cream on my lips. I didn't want glossy high shine lips so I blotted with a tissue after application for a matte finish.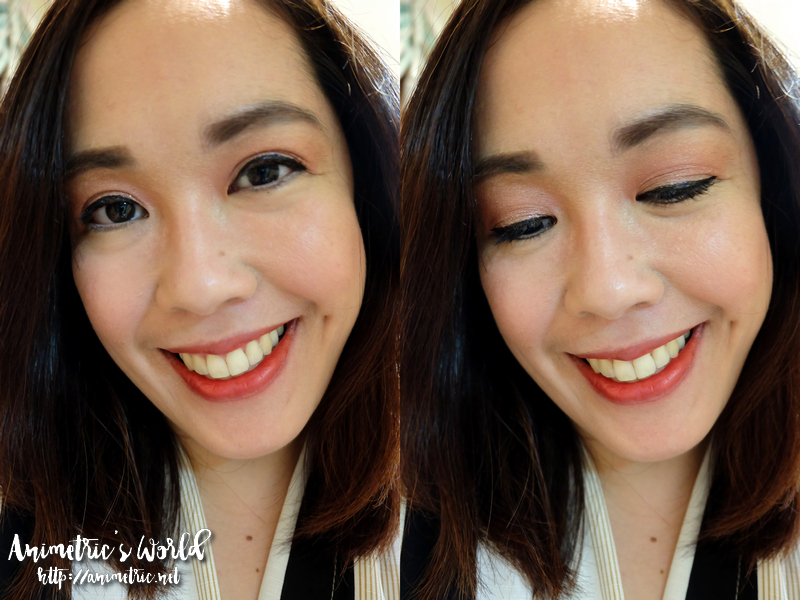 This is the finished look. I skipped the contouring powder and highlighter because I just wanted a simple daytime look. I just brushed Althea Petal Velvet Powder in #23 Warm Beige for a fresh overall finish.
Here are before and after photos.
Overall I'm really loving the Althea Makeup line. All the products have excellent pigmentation and performance at very reasonable price points. Can't wait to try creating other looks with them!
You can purchase Althea products at the Althea Korea Official Store on Lazada.
Like this post? Subscribe to this blog by clicking HERE.
Let's stay connected: