I was pretty excited when I was invited to try out Alqueria Spanish Restaurant in SM Megamall. I don't have Spanish food all that often, mainly because my father-in-law prefers Chinese food. Whenever we all go out as a family, we're always in some Chinese restaurant.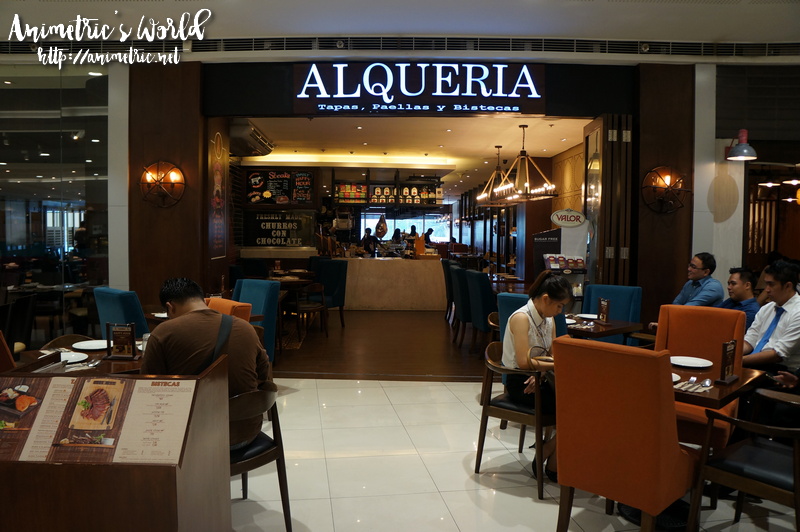 Alqueria Spanish Restaurant is owned by actor/restauranteur Marvin Agustin along with a few other partners.
SM Mega Fashion Hall is more like SM Mega Food Hall for me really, given the number of interesting new restaurants which have opened there. When you first go in Alqueria you'd think oh, there are very few tables here and the place is small… but you have to go further in and….
Voila! More tables — by the window too! 😀
It was a pretty hot and sunny day so I opted for Mint Iced Tea (P78) as my drink — very refreshing and not sugary sweet! Perfect.
They brought out some tapas (appetizers) to start. I loved their Salpicao (P445), which is super loaded with garlic… just the way I like it! I think I can have this dish as a full meal, lol.
I also tried the Gambas Al Ajillo (P375), another intensely delicious garlic-infused dish. Both the Salpicao and Gambas are served with slices of crusty bread on the side.
OMG, I went crazy over the Queso Fundido (P210)! Spiced tortilla chips are served with a creamy Manchego dip with pimientos and jalapenos. It's soooo good.
We also got to try Alqueria's Prime Ribs Solo (P1,499). The meat was okay but not nearly as flavorful as the tapas we just had. I did enjoy the taste of the naturally sweet roasted vegetables on the side though.
We had two kinds of paella that day, the first one was Carne Mechada (P950 for Medium). If you're familiar with the tomato-based Filipino dish Beef Mechado, this is kind of like a cross between that and paella. Paella Carne Mechada is characterized by a strong tomato flavor and lots of tender beef.
Our second paella was Paella with Chicharrones (P470 for Medium). This is paella topped with crispy pork cracklings. Of the two, this was the paella I liked better. For some reason it tasted more like mild cheese (even if there didn't seem to be any cheese) than tomato to me. But what I really want to try is the Paella Queso Manchego, and I'll probably go back for it with my family. 😀
Finally it was time for dessert! I was so stuffed but wow, who could say no to these irresistible creations? First dessert out was Canonigo (P218), which I found reminiscent of Brazo De Mercedes except that this one is swimming in caramel and there are sweet candied banana slices underneath.
The most unique dessert I tried at Alqueria was definitely the Manchego Cheesecake (P230). Creamy and not overly sweet, I could actually chew bits of Manchego cheese with every spoonful!

I liked Pudin (P160) too. It's chocolate pudding made from Valor dark chocolates served ala mode with a big scoop of vanilla ice cream. I will be back to try the Churros! 😀
All in all, Alqueria Spanish Restaurant serves really great tapas, paellas, and desserts! I already have some dishes in mind that I'd like try when I go back with hubby and the kids. The prices are admittedly on the higher end of the spectrum but the dishes are flavorful and filling, plus I like the location.
By the way, Alqueria Spanish Restaurant is offering 50% off on Churros from 3-6PM for the whole of August 2015! They always have great value-for-money promos which they announce weekly so do follow Alqueria on Instagram to keep updated! 😀
Alqueria Tapas, Paellas y Bistecas
3/F Mega Fashion Hall
SM Megamall, EDSA, Mandaluyong City
Like this post? Subscribe to this blog by clicking HERE.
Let's stay connected: