We spent our son's birthday weekend last February at the new branch of Ace Water Spa in Pasig City. It's located near Pioneer Center.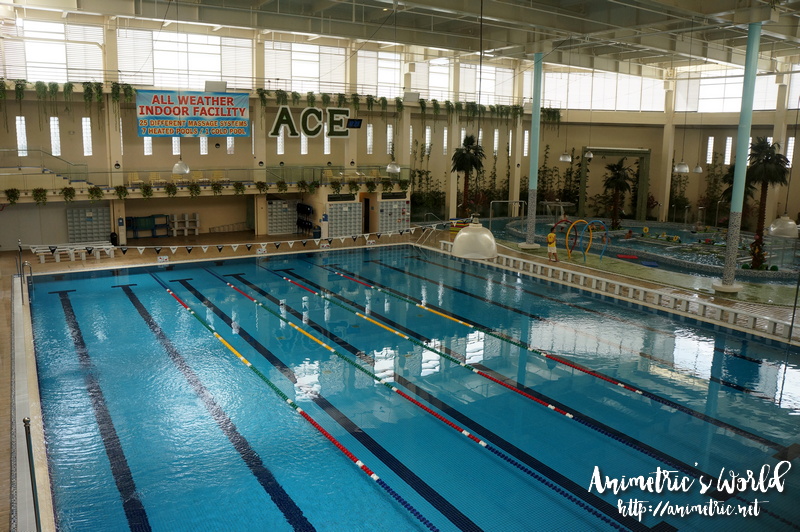 The design is more or less the same as the one in Quezon City. There's a lap pool and a water park-esque hydro massage area with a kiddie pool.
I couldn't take my cam to the wet area (it's prohibited) so I had to content myself with taking pics from behind the glass windows at reception. Anyhow, there's a hydro massage station for just about every body part including the soles of your feet! My favorite is the back massage station wherein you lie face down on a tile "bed" while the moderate water pressure soothes your entire backside (from your shoulders down to your feet). There are also therapeutic hot herbal pools at the inner area which my cam couldn't quite reach.
Anyhow, after swimming and having water massages, we proceeded straight to the dining area where a lavish eat-all-you-can buffet spread awaited us.
Ace Water Spa's cafe can accommodate a lot of people. I like how bright and spacious it is.
We were pleasantly surprised by the sheer amount of food choices available at the buffet. There was Japanese, Korean, Italian, and Chinese. There was even a carving station, noodle and pasta stations, salad bar, and ice cream bar! I had Chawan Mushi, Inari Sushi, and Kani Salad on my first trip. They were all delicious!
Hubby had freshly cooked seafood pasta. You can choose the type of pasta, sauce, and garnishing at the station. Yummy!
I went back for some Kimchi, Chap Chae, potato salad, vegetable tempura, and hot prawn salad. Wow. If I weren't trying to lose weight I would've eaten lots more. Hubby had dimsum like Siomai and Hakaw.
Here's another look at my Inari Sushi and vegetable tempura, haha!
For dessert, I had ube panna cotta, banana cake, and chocolate cake. You can also get freshly brewed coffee from the buffet area. I just had a bite each since I have to work off whatever I consume… haha! The kids had ice cream and their choice of toppings from the ice cream bar. I should also mention that service is excellent — the servers are all very attentive to your needs. 😀
We had a really relaxing yet fun morning at Ace Water Spa's new branch in Pasig. I think we like it better here because:
The place is brightly lit and spacious.
There's ample covered parking in the building.
It's not as crowded as the one in Quezon City. In fact we went there around 10am on a Sunday and we pretty much had the place to ourselves.
The cafe is a lot bigger compared to the one in QC.
Some reminders:
You cannot wear loose fitting swimwear (board shorts are a no-no). They have to be snug so the water pressure doesn't cause any wardrobe malfunction.
You need to wear swimming caps, they are included as loaners when you pay the entrance fee but you can opt to bring your own.
Towels are for rent so better bring your own.
Amenities like liquid soap, shampoo, plastic bags, and hair dryers are available in the locker area.
You can't bring your camera to the wet area.
No need for sunscreen since it's an indoor facility.
Entrance to Ace Water Spa costs P550 for adults and P250 for kids 4 ft. and below. This is good for a 4-hour stay in the wet areas. Their eat-all-you-can buffet's promotional rate is P450 per person on weekdays and P550 per person on weekends. Kids aged 6 and up get 50% off while kids aged 5 and below eat for free for every 1 adult which avails. Pretty reasonable considering the variety and quality of the food served, both of which are excellent. 😀
With the upcoming hot summer months ahead, I think we're going to be visiting a lot! 🙂
Ace Water Spa
G/F D'Ace Plaza
United St., Mandaluyong City
404-9995 / 330-7776
http://www.acewaterspa.com.ph
Like this post? Subscribe to this blog by clicking HERE.
Let's stay connected: