Last January 2, we got together with our high school friends and had a late Christmas Party at Ace Hotel Suites in Pasig City. We decided to stay overnight so we could have some drinks without having to worry about driving home. We also had our families in tow since Ace Water Spa is located on the ground floor.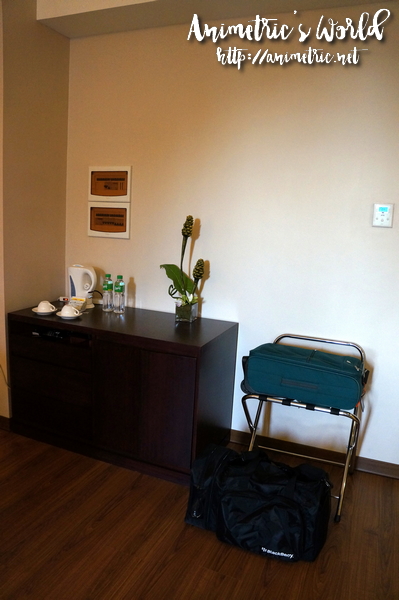 We just brought one handcarry luggage and an overnight bag.
Since we were two adults and two kids, we got a Junior Suite with an extra bed since we can't all fit on the queen sized bed. We availed of Ace Hotel Suites' soft opening promo which starts at P3,900++ per night for the Deluxe Room. The Junior Suite is one level above so it cost P4,900++ per night. Our rooms were reserved last year.
The soft opening promo includes:
Welcome Drinks
Buffet Breakfast for 2
Ace Water Spa passes for 2
Fresh Fruits
Complimentary Bottle of Red Wine
I checked their website http://www.acehotelsuites.com just now and rooms under the soft opening promo are all sold out. Without the promo, the room rates are a bit higher and you get all the above minus the fruits and wine.
The Junior Suite has a study area.
This is the view from the couch. The flatscreen TV swivels 360 degrees so you can make it face the bed across the room.
The bed is queen-sized by default.
The bathroom is small but complete.
There's a phone and a hair dryer.
There's a complete set of toiletries too, including toothbrushes with toothpaste so you don't actually need to bring anything but a change of clothes.
There's a shower enclosure too.
Service is excellent. I asked for extra towels, extra toothbrushes, help with the digital room safe, etc. while we were there and my needs were promptly addressed. The rooms are immaculately clean (I got to check out our friends' rooms) and the air-conditioning is sufficient in terms of cooling comfort. There's free wifi access throughout the hotel too.
The breakfast buffet is very basic but sufficient — alas I was too lazy to take photos. There were pancakes, french toast, bacon, garlic rice, danggit, a few other viands I can't remember, breads, yogurt, cereal, and an omelet station. There's bottomless brewed coffee, juices, and fresh milk too. Since we only had two breakfast buffet vouchers, we paid half-price for the kids… that amounted to a very reasonable P175 per child.
I highly recommend Ace Hotel Suites if you're looking for a convenient staycation place. It's near major malls in Ortigas plus you can enjoy the facilities of Ace Water Spa on the ground floor. Their lavish lunch and dinner buffet spreads are yummy and reasonably priced too — P450 on weekdays and P550 on weekends.
Ace Hotel Suites
United cor. Brixton Sts.,
Pasig City
628-1888 / 462-8283
http://www.acehotelsuites.com
Like this post? Subscribe to this blog by clicking HERE.
Let's stay connected: