Cozumel, an idyllic island nestled in the crystalline Caribbean waters off the coast of Mexico's Yucatan Peninsula, is a dream destination for travelers seeking both relaxation and adventure. With its captivating sunsets, vibrant marine life, and rich cultural heritage, Cozumel offers a myriad of enchanting experiences that will leave visitors awe-inspired. Whether you're a nature lover, a history buff, or simply in search of a tranquil escape, Cozumel has something for everyone. In this blog post, we'll explore six remarkable activities that will make your visit to Cozumel truly unforgettable,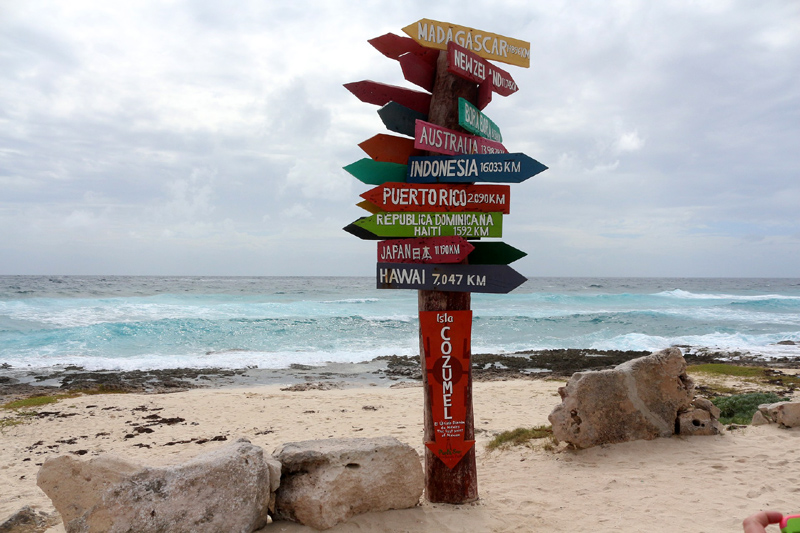 Immerse yourself in mesmerizing sunsets.
Cozumel boasts some of the most breathtaking sunsets in the world. Picture yourself strolling along the pristine sandy beaches as the sky transforms into a canvas of fiery hues. To witness this mesmerizing spectacle, head to Punta Sur Eco Beach Park, situated at the southern tip of the island. Here, you can capture stunning panoramic views while exploring the lush mangroves and ancient Mayan ruins that dot the landscape. Whether you choose to enjoy the sunset from the shore or opt for a romantic catamaran cruise, the tranquil beauty of Cozumel's sunsets will leave an indelible mark on your memories.
Be dazzled by a kaleidoscope of colors by snorkeling and diving.
Cozumel is renowned for its vibrant coral reefs, making it a world-class destination for snorkeling and diving enthusiasts. Grab your snorkel gear or scuba equipment and embark on an underwater adventure like no other. Discover a kaleidoscope of colors as you swim alongside exotic tropical fish, graceful sea turtles, and impressive coral formations. The famous Palancar Reef and Columbia Wall are must-visit sites, offering unrivaled visibility and an abundance of marine life. You can easily book your dives or even diving classes via CozumelScuba.com, amongst other sites, and experience the magic of Cozumel's underwater world firsthand. Whether you're a beginner or an experienced diver, Cozumel's underwater paradise promises an unforgettable journey into the depths of the Caribbean Sea.
Unleash your inner explorer at Chankanaab National Park.
Nestled on the western coast of Cozumel, Chankanaab National Park is a treasure trove of natural wonders. Immerse yourself in the park's lush greenery and discover its hidden gems. Take a stroll along nature trails that wind through tropical gardens, or cool off with a dip in the park's pristine cenote, a natural sinkhole filled with crystal-clear freshwater. For those seeking a close encounter with marine life, snorkeling in Chankanaab's turquoise lagoon is an absolute must. Don't miss the opportunity to swim with dolphins, an experience that will leave you in awe of these majestic creatures.
Indulge in the island's culinary delights.
No visit to Cozumel would be complete without savoring the island's delectable cuisine. From traditional Mexican dishes to international fusion fare, Cozumel offers a diverse culinary landscape that caters to all palates. Feast on freshly caught seafood, tantalizing street tacos, and authentic Yucatecan specialties like cochinita pibil, a slow-roasted pork dish bursting with flavor. Wash it all down with a refreshing margarita or a local craft beer, and you'll discover that Cozumel's culinary offerings are as vibrant and diverse as the island itself.
Embark on a cultural journey.
Cozumel's rich cultural heritage is deeply rooted in its Mayan past. Immerse yourself in history by visiting the San Gervasio archaeological site, once a sacred sanctuary dedicated to the Mayan goddess of fertility, Ixchel. Explore the remnants of this ancient civilization as you wander among the stone structures and intricate carvings. For a deeper understanding of Cozumel's history and traditions, pay a visit to the Cozumel Museum, where fascinating exhibits showcase the island's evolution from pre-Columbian times to the present day. Engage with local artisans and shop for unique handicrafts and souvenirs that embody Cozumel's cultural heritage.
Soak up the sun on Cozumel's pristine beaches.
Cozumel's sun-kissed shores beckon sun worshippers and beach lovers from around the globe. With its postcard-perfect white sand beaches and crystal-clear turquoise waters, the island offers an oasis of tranquility and relaxation. Head to Playa Palancar for a laid-back beach experience, where you can lounge under swaying palm trees, take a dip in the azure sea, or simply bask in the warm Caribbean sun. For a livelier atmosphere, Playa Mia Beach Club offers an array of water activities, beachside bars, and thrilling water slides, ensuring fun for the whole family.
All in all, Cozumel is a captivating destination that seamlessly combines natural beauty, exhilarating adventures, and rich cultural experiences. From witnessing awe-inspiring sunsets to exploring vibrant coral reefs, this tropical paradise offers an enchanting array of activities for every traveler. Whether you seek relaxation or seek to immerse yourself in the island's natural wonders and cultural heritage, Cozumel will leave you spellbound. Pack your bags, embark on a journey to this Caribbean gem, and create memories that will last a lifetime. Cozumel awaits, ready to unveil its enchanting secrets to those who dare to explore.
Like this post? Subscribe to this blog by clicking HERE.
Let's stay connected: