One of the highlights of our Mother's Day weekend staycation at Discovery Suites was dinner for hubby and I at 22 Prime Discovery Suites' premiere steakhouse.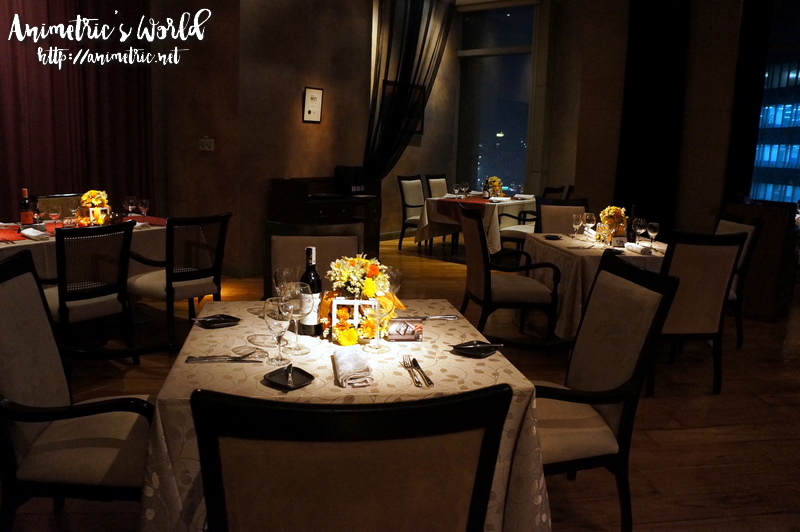 It was the Saturday before Mother's Day. Everything was set up nicely at 22 Prime Discovery Suites — flowers and a bottle of wine on each table, dim lighting to enhance the date atmosphere… we picked a table by the window where we had a nice view of the city.
As I was saying, flowers and a bottle of wine on each table…
We were served a selection of freshly baked breads while waiting for our orders. We were having 22 Prime's special Mother's Day menu which cost a very reasonable P1,800 net per head.
Aside from the delicious warm breads we each had a piece of salmon too!
Anyhow, 22 Prime Discovery Suites' special Mother's Day menu is a 3-course meal which offers two choices each for the appetizer and main course. For appetizers, you can either have Seafood Veloute, a mixed creamy seafood stew with truffle foam and grilled brioche bread. They sure didn't scrimp on the truffle oil because I could smell it from quite a distance.
Or you can opt for Steak Salad — sliced grilled top blade steak with organic mesclun greens and calamansi vinaigrette, like hubby and I did. OMG. This is the BEST salad ever!!! The steak was super tender. The doneness was perfect… no dripping blood but melt-in-your-mouth soft. The veggies were crisp and fresh plus the calamansi vinaigrette was to die for.
We had fresh fruit drinks to go with our food.
For his main course, hubby opted for the Oven Braised USDA Beef Cheek. It's a piece of slow-cooked beef cheek on a bed of mashed potatoes with seared foie gras and sauteed vegetables. The beef was incredibly soft and tender, literally melt-in-your-mouth. You don't even need a knife to eat it. The vegetables were fresh, crisp, and sweet.
I had the Soy Butter Glaze Halibut Fish for my main course. It's served with fava beans (which taste a lot like Edamame), annato (atsuete) pilaf rice, and microgreens. I really loved this dish. The fish was really nice and flavorful plus it went so well with the rice and veggies. My plate was super clean afterwards because I ate it all.
For dessert, we were served Deconstructed Tiramisu. Chocolate, rum-dipped chocolate cake, coffee beans, strawberries, and cream were lined up in a row.
I had it with a piping hot cup of brewed coffee. I love the sugar cookie they serve on the side. 🙂
Just as we were having dessert, our kids surprised me with a big bouquet of flowers and letters.
They joined us for dessert! It was a really lovely Mother's Day dinner. 🙂
I love 22 Prime. The place is classy and intimate, perfect for dates. Food is superb and I must say reasonably priced — for P1,800 net per person you can have a divine 3-course meal! Service is excellent too. All moms who availed of this special menu also got a box of pralines to take home.
Thank you Discovery Suites for a memorable Mother's Day weekend. 😀
22 Prime
22/F Discovery Suites
#25 ADB Ave., Ortigas Center, Pasig City
719-8888
http://www.discoveryhotels-resorts.com/
Like this post? Subscribe to this blog by clicking HERE.
Let's stay connected: