My kids were nothing short of awed when I first unboxed and set up the Sony DPP-F700 Digital S-Frame review unit.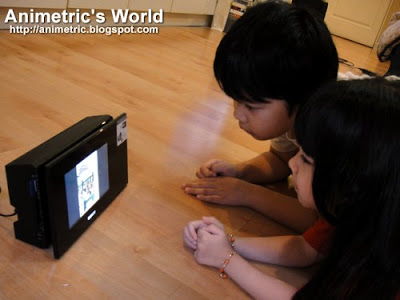 It was the first time they had ever seen a digital photo frame in action. I loaded mostly family photos in an ordinary SD card and popped it in. They watched the slideshow over and over again in amazement. That's just one of the cool things about the Sony Digital S-Frame DPP-F700. Normally, you can only use Sony Memory Sticks in Sony gadgets, but this can accomodate SD cards, MMC, Compact Flash cards, and xD-picture cards. It also has a built-in internal memory of 1GB in case you can't spare any of your cards.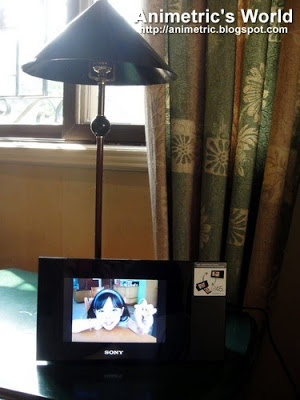 The Sony Digital S-Frame DPP-F700 was a really nice fixture on my night table. It will surely be a great conversation piece for guests if you put it in your living room.
I took a video of the Sony Digital S-Frame DPP-F700 when used as a picture frame for an actual demo of how it works. You can tilt the frame to an upright rectangle if your photos are vertically-aligned. It's actually more like a photo album rather than a frame since it can display up to thousands of pictures.
The Sony Digital S-Frame DPP-F700 is a combination product. It not only works as a decorative frame, it can print out high-quality photos too. This is just perfect for moms like me with school age kids. I can't even count the number of times I've had to scramble out of the house to have family photos printed because my kids needed them for a school project the next day. With a Sony Digital S-Frame at home, you can have a snazzy 4″ x 6″ photo in mere seconds with just one press of a button. The print quality is incredible for something so small. There are different print modes (calendar, ID, etc.) to choose from if you're feeling creative. You can also zoom, rotate, and crop onscreen. I love it!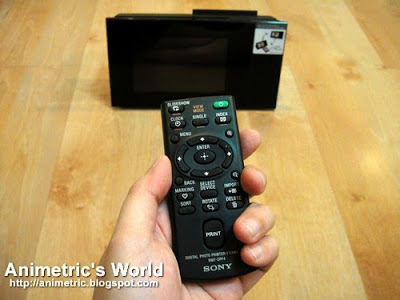 The fun and functional Sony Digital S-Frame DPP-F700 comes with a remote control for added convenience, aside from the usual accessories like the adaptor, power cord, and application software. It retails for P12,999.00.
Like this post? Subscribe to this blog by clicking
HERE
.