Late last October, I received a pair of Skechers Go Walk 2 to try out and review. I was actually asked to choose three styles so when the package arrived, I didn't know which one I was getting.
I exaggerate not when I say the box was so light when I lifted it I thought it was empty! These shoes are THAT lightweight.
Yay, I got my first choice — Skechers On-The-Go-Sail in Red and White! These cost P3,495 a pair. They look like boat shoes but are nowhere as heavy as boat shoes usually are.
OMG, I felt like I was wearing pillows on my feet!
I like how this doesn't look bulky, clunky, or masculine. In fact I find it very flattering and feminine.

These Skechers Go Walk shoes are so comfy I wear them everywhere. There was one Sunday where we dropped by JolliTown in SMX and I wore these the whole day! We walked all around the huge space JolliTown occupied, then to the main mall where we had lunch, then back to the basement parking of SMX… SM Mall of Asia is a mall which involves a lot of walking since it's soooo big but with Skechers Go Walk, no sweat! I can already imagine wearing these on my next trip abroad.
There are many styles and colors of Skechers Go Walk shoes to choose from, I'm sure you'll find one to your liking when you check out the Skechers store. 🙂
The pair I got is so incredibly comfy I think I might just get another one in a different style and color.
Anyhow, I was able to put Skechers Go Walk to the ultimate test when I was invited to Skechers' Amazing Race-type event with fellow bloggers.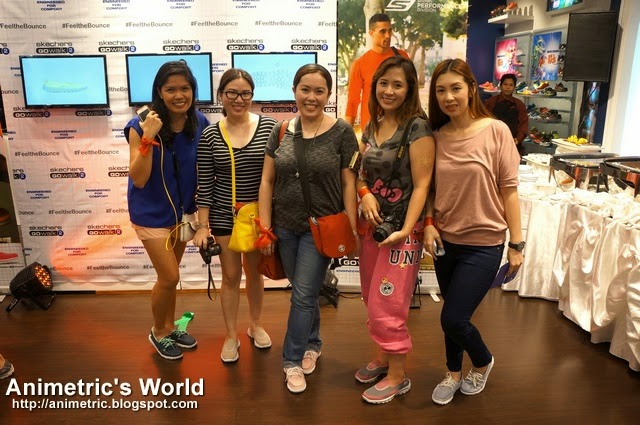 Team Red (from L to R): Camille of The Soshal Network, Michelle of XOXO
Mrs. Martinez, Me, Rochelle of rochellerivera.com and Kath of kathrivera.com
We were divided into teams and of course we all wore our Skechers Go Walk shoes! I could already tell there was going to be a lot of running and I kind of regretted not wearing workout clothes hahaha!
As soon as we were given the go-signal everybody RAN towards the store exit. That's me with the yellow arrow caught in the act hahaha!
Just like Amazing Race on TV, we had to go to pit stops, open envelopes which contained clues, and perform the required tasks.
The first task was to buy something fluffy and so we went ran to Landmark to try and find something fluffy.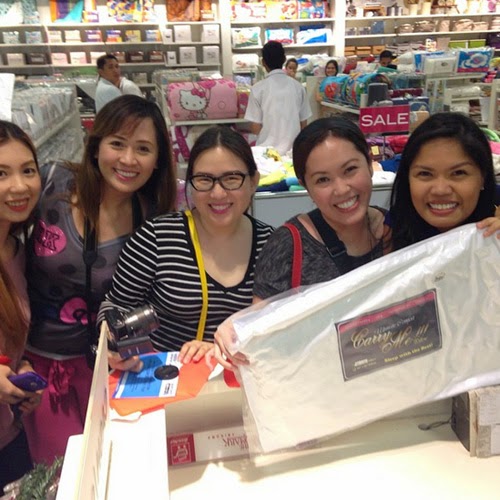 Photo courtesy of The Soshal Network
We settled for this pillow which cost only P100+. We were given a limited budget so we had to find the best deal in the process.
Yes, we were running even on elevators.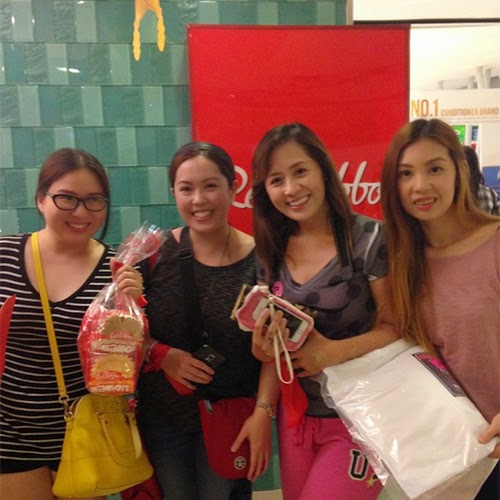 Photo courtesy of The Soshal Network
We were tasked to buy Filipino comfort food so we ran to the basement food court to buy some mamon from Red Ribbon.
One of the tasks involved taking a group shoe-fie!
This is how we hail a cab, Skechers Go Walk style, lol!
We had a lot more tasks in between and I don't think I've ever done so much running! This was our last task and we were already kind of tired (but happy) from scampering all over the area.
Okay so my legs and thighs felt the workout and they were actually sore the next day but you know what? My feet were good as new — no pain, no soreness, nothing! Our team didn't win but we had a lot of fun plus we got really cool consolation prizes, haha! In fact, I still had it in me to pick up my kids from school then go to Century City Mall for dinner and a movie with my hubby. I was still on the go!
What I like about Skechers Go Walk shoes:
They're super comfy, it's like your feet are wearing pillows.
You can walk walk walk (and even run) the entire day and your feet will not ache.
There are a lot of styles and colors to choose from.
Each step feels bouncy and springy, it just makes me want to walk more so ultimately it's good for your physical activity levels!
They're reasonably priced at under P4k per pair (prices range from P3,295 to P3,695).
They're versatile enough to wear with pants, shorts, skirts, workout clothes, etc.
I love Skechers Go Walk shoes so much I want to share it with you dear readers, especially since it's Christmas… the season of giving! Anyhow, one (1) lucky reader will be taking home a pair of Skechers Go Walk shoes plus a few other extra Skechers merchandise thanks to Skechers Philippines! Stay tuned as I will post the giveaway within the week!
Would you like a pair of Skechers Go Walk shoes? Log on to http://www.skechers.com.ph/ for a complete list of stores! 😀
Like this post? Subscribe to this blog by clicking HERE.
Let's stay connected: